Stair Lifts, Chair Lifts, Stairway, Curved and Straight Stair Lifts by Pittsburgh PA's Trusted Provider, Access Elevator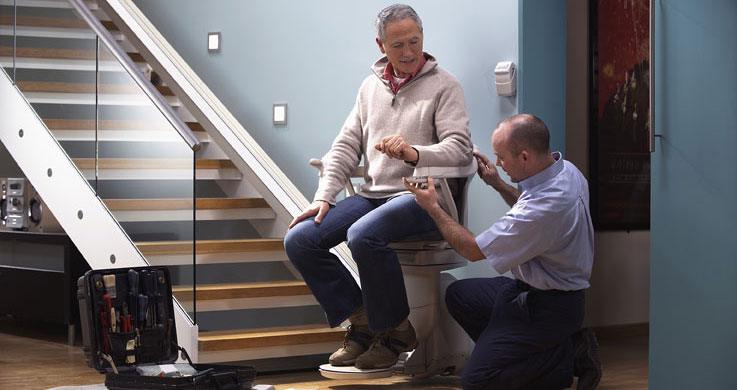 You have reached the ideal website if you are looking for a reliable provider of chair lifts and stair lifts in Pittsburgh, Pennsylvania. This Allegheny County city is one the most vibrant places in the entire country. In fact, it compares well with communities all around the globe.
A couple of years ago, the City of Bridges was named as one of the most livable cities on the planet. It has a rich history, but it is always evolving, and it offers everything you could possibly want or need. We are proud to serve clients all over town, from the Broughton/Bruceton area to Whitehall to Bryn Mawr and everywhere in between. Simply put, for stair lifts in Pittsburgh, PA, Access Elevator is the only logical choice.
Chair Lifts and Stair Lifts for Aging in Place
The need for chair lifts is increasing all the time because of a demographic reality that we are experiencing. A huge number of babies were born during the period after World War II between 1946 and 1964. This phenomenon is called the "Baby Boom," and all of these former babies are now attaining senior citizen status. According to the Department of Health and Human Services, most people who reach the age of 65 will someday need living assistance.
It can definitely be impossible for some seniors to go up and down steps constantly when they have mobility issues. Assisted living facilities are very expensive, and many people simply want to remain in their homes. If you live in a house with stairs in Pittsburgh, Pennsylvania stairway lifts can provide a solution. We offer straight stair lifts, but we can also adapt solutions to suit your needs.
We source our chair lifts from the most highly respected companies in the industry, including Stannah, Stiltz, and Savaria. All of the stairway lifts that we sell are made in America, so you are supporting domestic workers when you purchase your stair lifts from Access Elevator.
Give Us a Call Right Now!
There is no doubt about the quality of the adaptive stairway lifts and straight stair lifts local residents can obtain from our company. At the same time, our installation technicians are the best in the business, so you can rest assured that your chair lifts will be installed correctly. If you are ready to take action, you can discuss your needs with one of our Pittsburgh, PA stair lift consultants if you give us a call at 412-781-9111.
---