Commercial Elevators in Syracuse, NY
Businesses with multiple stories are often a challenge for people in wheelchairs or individuals with mobility issues. That's where Access Elevator comes in. We provide accessibility solutions like commercial elevators in Syracuse, NY, and stairlift, wheelchair lift, and chair lift installing and servicing.
Our team will improve your commercial business's accessibility for employees and customers. You can be confident that your new commercial elevator will be ADA-compliant, stylish, and capable of meeting the needs of visitors and workers to your property.
Commercial Elevators and Vacuum Elevators in Syracuse, NY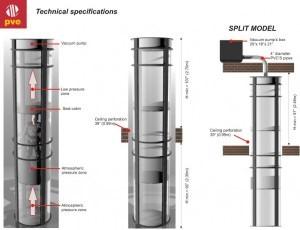 Businesses have several options available for commercial elevators in Syracuse, NY, all of which Access Elevator can install and service. For instance, passenger elevators are a common choice for transporting anyone to any floor within a building. Their design perfectly complements the property's aesthetic and can either blend with the background or stand out as a statement feature.
Freight elevators are another common commercial elevator type. Unlike passenger lifts, freight elevators can withstand heavy loads and tough work situations while operating at a low speed. They're perfect for warehouses and big-box retailers.
A less common but beneficial option is the vacuum elevator. We are an authorized distributor and installer of Pneumatic Vacuum Elevators (PVE) to clients throughout New York. Though it is a popular home elevator option, vacuum elevators also work for commercial properties that need to be ADA-compliant but do not have enough space to accommodate a larger elevator.
Vacuum elevators don't have many installation requirements and use air pressure for vertical movement instead of traditional cables. Units are available as single-passenger elevators, three-person elevators, and wheelchair-accessible elevators.
Commercial Elevators and LU/LA Elevators for Syracuse, New York
LU/LA (Limited Use/Limited Application) elevators work well for homes and businesses. The elevator's design meets ADA requirements and provides elevation for low-rise properties that cannot install passenger lifts. LU/LA elevators are best for educational facilities, libraries, churches, and more, and they provide up to six stops and rise to 50 feet.
LU/LA elevators from Access Elevator are incredibly safe, thanks to our expert installation services and the inclusion of several safety features. The units include manual lowering for emergencies, Braille characters, and a robust safety brake system.
Located in the heart of New York State, Syracuse is a fun city packed with fantastic year-round festivals and an impressive food scene. The city has over 170 parks, outdoor recreation areas, fields, and several business districts, including downtown, Eastwood, and Little Italy. Contact Access Elevator today at (315) 215-LIFT to make your Syracuse property more accessible to everyone.