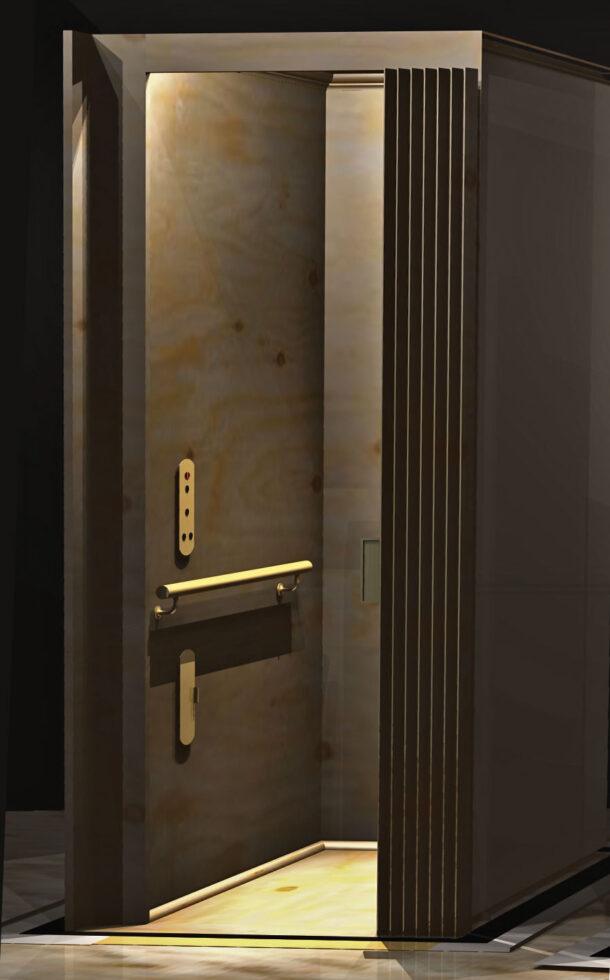 Flat Home Elevator Panel Serving Pittsburgh, Buffalo, Rochester, Syracuse, Erie, and Surrounding Areas
Symmetry Elevating Solutions offers beautifully crafted and engineered flat home elevator panels made in the USA. Select from a variety of styles including White Oak, Mahogany, Hickory, Maple and more to match any home.
Our Flat Panel Home Elevator features a smooth wooden cab interior. Our most affordable option, flat panel styles offer simplicity and functionality to your home elevator.
Standard Elevator Features:
Up to six stops
Two drive system available:
In-Line Geared (MRL – Machine Room Less)
Roped Hydraulic system
Cab sizes from 12 to 18 square feet (available cab size may vary depending on local codes)
7′ interior height with 8′ overhead is standard (8′ interior height with 9′ overhead is optional)
Automatic cab lighting
950 lb. capacity
Car Operating Panel with push-button operation and LED floor position indicator
Hall call stations with call button and car arrival indicator
Three year limited parts warranty
Two energy saving recessed LED overhead lights with black trim rings
Recessed phone box in brushed stainless steel or brushed brass
Safety Features:
In-car alarm button, emergency stop switch and telephone
Battery backup – if the power's out, the lights and alarm are on
Uninterrupted power – lower the car and open the gate even in a blackout
Slack rope/chain safety device
Motor control supply (located in controller)
Car light supply (located in control)
Upper and lower final limits
Car top stop switch
Electromechanical hoistway door interlocks (keeps the hoistway door secure)
Manual lowering device
Optional Enhancements:
One touch automatic operation of hoistway doors and car gate
Four recessed LED overhead lights with choice of finish
Integrated telephone in car operating panel
Call Access Elevator (716) 483-3696 today to find a distributor in your area.
Offering Stairlifts, Wheelchair Lifts, Home Elevators and more to Rochester, Buffalo, Syracuse, Erie and the surrounding areas.