Access Elevator in Buffalo, NY Platform Lifts, Wheelchair Lifts, Stair Lifts, Home Elevators And More Including Savaria Lifts, LU/LA Elevators, and Stannah Stair Lifts
At Access Elevator we offer prompt professional elevator and stair lift services. We employ only the best Buffalo sales and service people who cannot be matched by impersonal internet sales techniques. You will find we have a strong dedication to our long term customer relationships leading the majority of our sales to stem from satisfied customer referrals.
Buffalo, NY Elevator and Stair Lift Sales
Our vast product volume allows us to provide the industry's best wheelchair and stair lifts at competitive prices. We offer products to address any and all of your elevator needs including stair lifts, wheelchair lifts, vertical lifts, platform lifts and home elevators. As a respectable stair lift installer you will not receive "pressure sales tactics" or annoying follow-up calls. We strive to deliver a simple consultation that allows you to make a decision that meet your particular needs.
Your Buffalo, NY Salesperson is George Siwy
George Siwy has been specializing in the design consultant business since 1993. He graduated from NYIT with a bachelor's degree in architectural technologies and has worked on several design projects in Manhattan while studying there. A resident of Buffalo, Siwy has a passion for supporting the Buffalo community and loves to help his clients create their one-of-a-kind design. From the most elaborate design to the most economical project, he brings excellent customer service and dedication to details and makes sure all of his client's needs are met. George enjoys visiting project sites and meeting in person with his clients. Give him a call at the Buffalo Office today.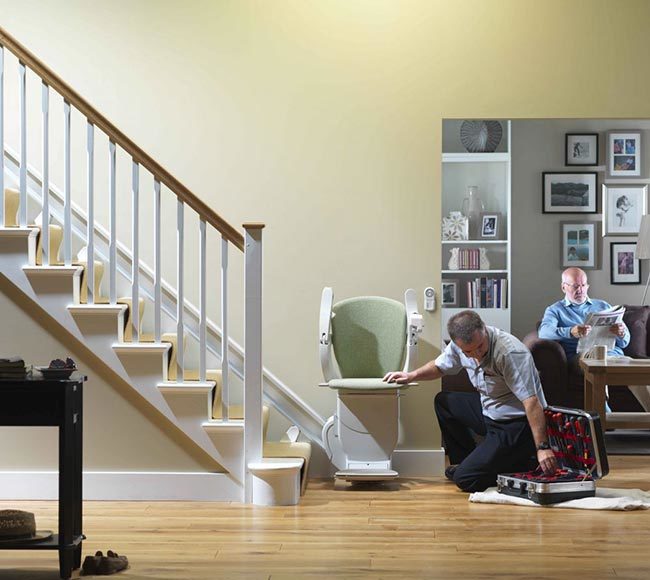 Service in Buffalo, NY
Our installation and service mechanics in the Buffalo, NY area are factory and field trained to ensure your stair or wheelchair lift's safety and reliability. Because our installers are not "sub-contracted" like you find elsewhere we provide a "100% service and labor warranty" for the first 6 months you own your lift. You will enjoy piece of mind knowing Access Elevator will be available when you need us for warranty, service or maintenance.
We look forward to serving your needs…
Sean Fenton, President