HOW MUCH WILL MY HOME ELEVATOR COST?
Duo Home Elevator Serving Pittsburgh, Buffalo, Rochester, Syracuse, Erie, and Surrounding Areas
Elevators – Home & Residential Elevators
More than just a lift, the Stiltz Duo Home Elevator will enhance your life
The Stiltz Duo Home Elevator is a unique and innovative home elevator which can be installed almost anywhere in the home. The Duo is unlike any other conventional residential elevator available as it does not require hydraulics or need to be fixed to walls. Our home elevators are powered by an intelligent electric motor drive system that is very quiet and housed, out of sight, at the top of the lift and plugs straight into a regular power socket – just like any other household appliance.
Using dual rail technology, the freestanding Stiltz Duo Home Elevator is a self-supporting structure with no extra weight burden put on the home. This means the lift can be installed in places where other conventional residential elevators will not fit. The clever design also means there is no need for a lift shaft or separate machine room.
The Stiltz Duo Home Elevator offers unrivaled flexibility in terms of placement in the home and is a safe, neat and discreet alternative to a stair lift. It can be installed in as little as one day with minimal building work and disruption. From hallway to landing or family room to bedroom, the lift requires a remarkably small space of less than 7 sf – so the choice is yours.
Stiltz Duo Home Elevator Range
NEW! Stiltz Duo Alta
is the newest addition to the Duo range and is a stylish, compact residential elevator which is elegantly curved and designed to compliment any style of décor; contemporary or traditional. It allows the seasons to flood into your home while enabling you to move around you home with comfort and convenience.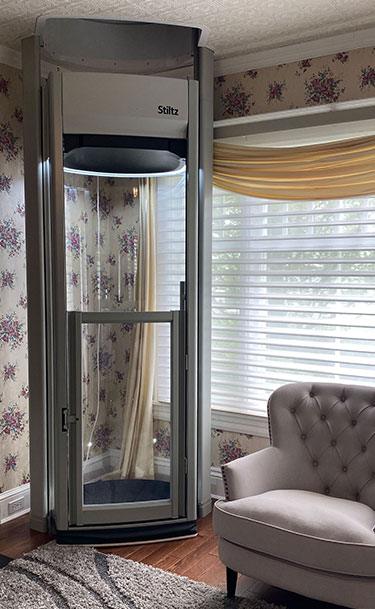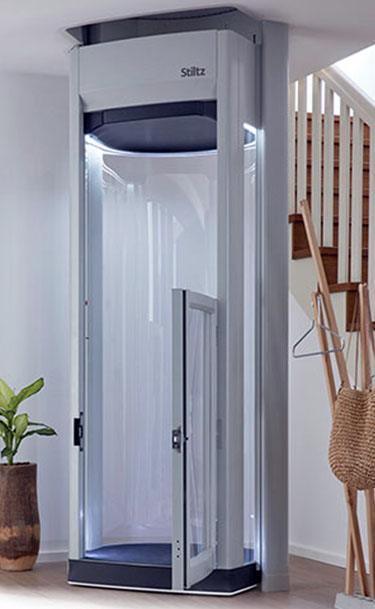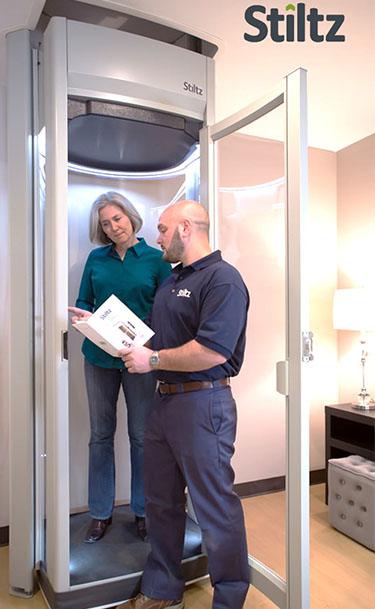 Stiltz Duo Classic
This is the original Stiltz Home Elevator and can carry two people up to one floor in less than 30 seconds. The Duo Classic looks great and is a lift to feel good about. It includes many features as standard with additional options available.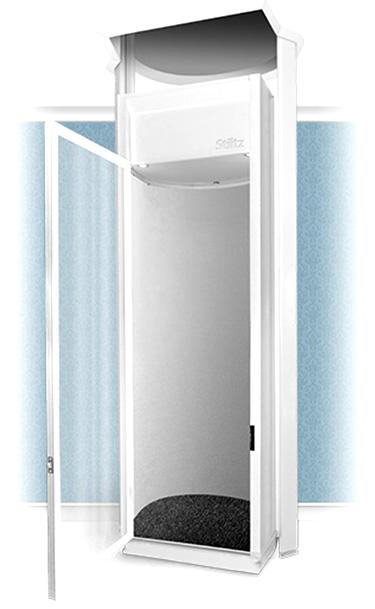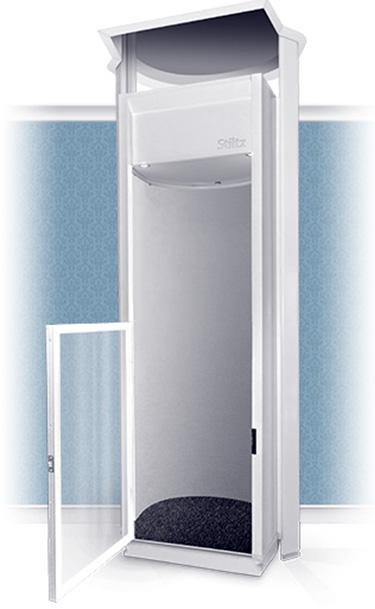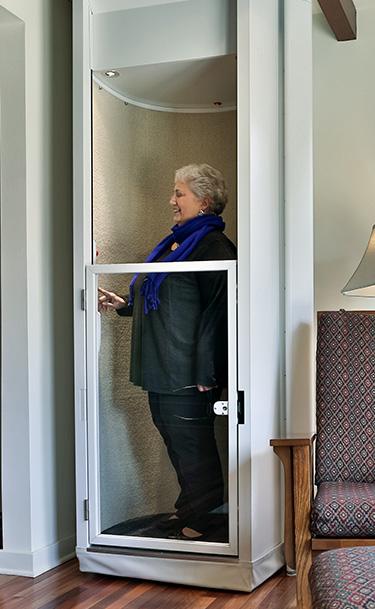 Stiltz Duo Vista
is fitted with a clear body made from structural poly-carbonate to give it a contemporary look. The Duo Vista can blend into a room's décor and allow natural light to flood in if the residential elevator is placed in front of or close to a window. It offers all the same features as the Classic.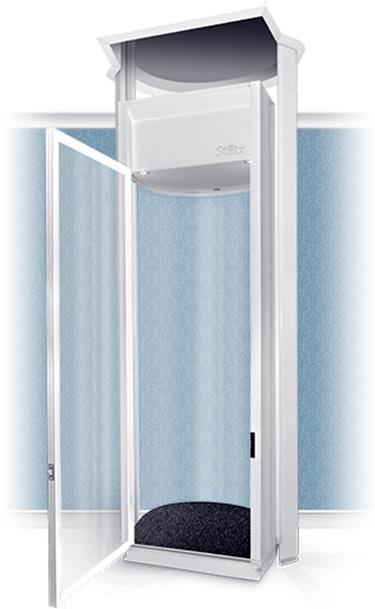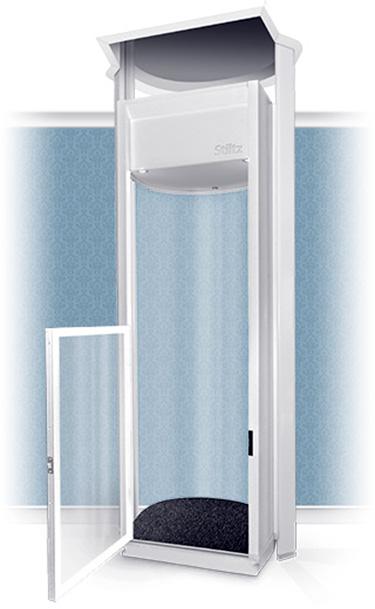 Stiltz Duo Thru Car
allows users to enter and exit from both sides of the lift. This is made possible by the Stiltz unique dual rail technology. There is no other elevator lift of this kind on the market that is capable of having a double entry or thru car configuration. It offers all the same features as the Classic.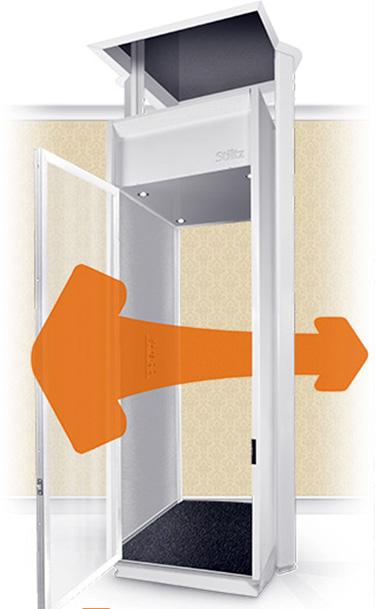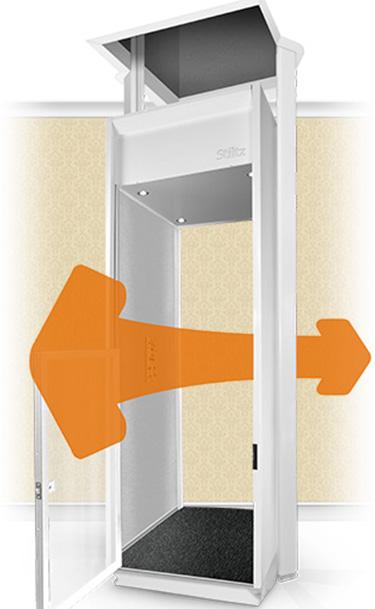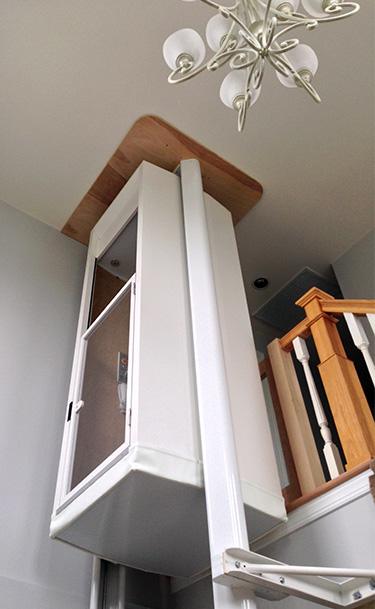 Stiltz Duo Home Elevator Benefits
Small Footprint
Smallest footprint of any lift on the market – covers less than 7 sf surface area
Quiet
Powered by a quiet electric self-contained motor – no noisy hydraulics or vacuum systems
Fast Installation
Elevators are made up of modular sections – standard installs take just one day
Power Consumption
Plugs into a regular 110v or 220v power outlet – like any other household appliance
Unique Guide System
Two parallel and vertical guides bear load of the lift – self-supporting structure
Self Contained Drive System
Housed at the top of the lift, out of sight
Lift Footprints