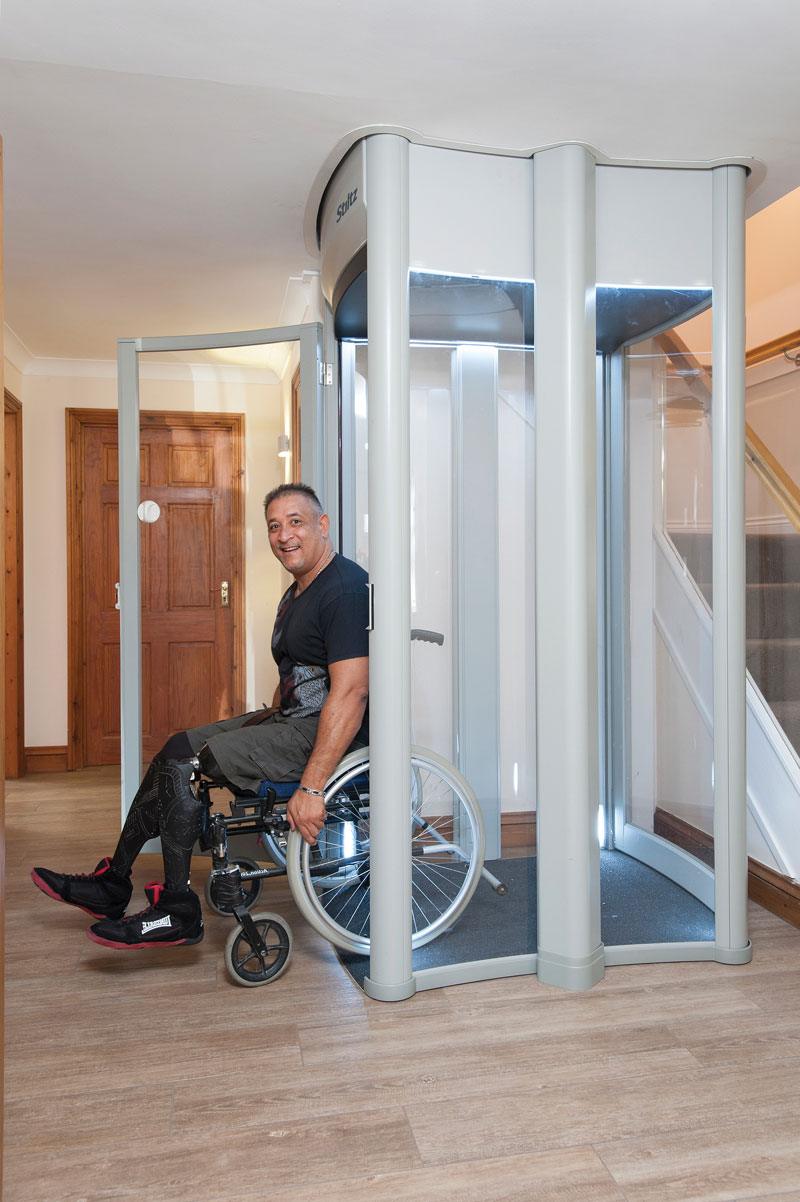 Trio Wheelchair Elevator Serving Pittsburgh, Buffalo, Rochester, Syracuse, Erie, and Surrounding Areas
Access all areas: Nothing off limits with Stiltz Wheelchair Elevators
The Stiltz Trio Wheelchair Lift is a smart, economical and sustainable home mobility solution which can fit a standard sized or manual wheelchair and is ideal for users with a walker or rollator. Our wheelchair elevator is an attractive alternative to a stair lift and allows you to live independently at home. The Stiltz range of wheelchair lifts offer a spacious and smooth travel experience and, most importantly, makes your home fully accessible – with no section of your home off limits.
At Stiltz, we have been designing and manufacturing wheelchair elevators for over a decade and this experience shines through in the engineering and craftsmanship of each new product. The Stiltz Trio Wheelchair Lift is a game changer in the industry, as it combines cutting-edge technology without compromising on style. No detail is overlooked and every wheelchair lift includes convenient hold-to-run controls, a full height light curtain with fitted half height door and the option of a thru-car design allowing entry and exit from both sides – avoiding awkward maneuvers.
It takes a maximum of just two days for one of our Authorized Dealers to install your wheelchair elevator before you can start to enjoy a whole new freedom and independence. The elevator is also useful for carry heavy objects or awkward items and can also carry three standing people. Once fitted, the Stiltz Trio Home Elevator simply plugs straight into a domestic power socket and is fully operational with no supporting walls needed. Spacious enough for a standard sized wheelchair, yet surprisingly compact with a footprint covering less than 13.5 sq ft, a Stiltz elevator preserves precious floor space, while giving you access to all areas, at all times.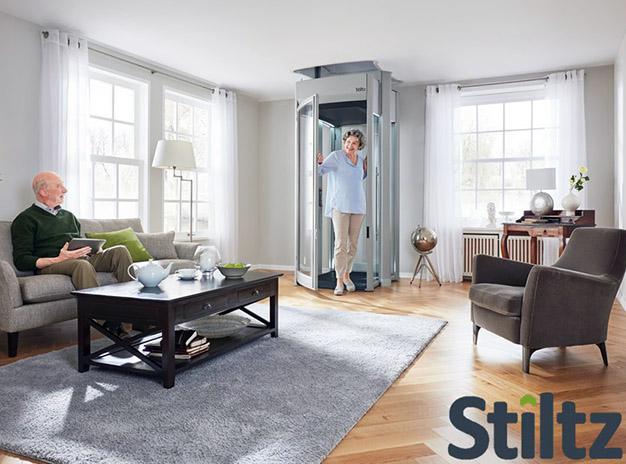 HOW MUCH WILL MY HOME ELEVATOR COST?
Stiltz Trio Wheelchair Elevator Range
NEW! Stiltz Trio Alta is the new, spacious and luxurious wheelchair-accessible home elevator designed to carry a full-sized wheelchair or three people. The combination of style and luxury has been perfectly balanced and the elevator has clear sides which enables it to blend seamlessly into the home and to make it even less intrusive the rails are cleverly and discreetly recessed behind the slightly wider entrance/exit.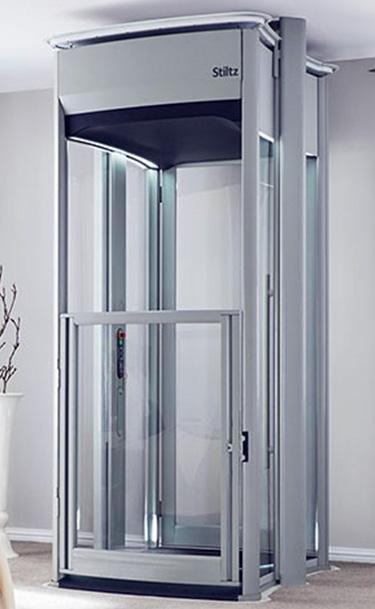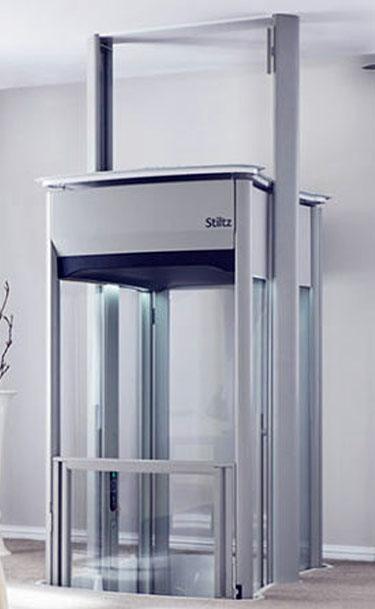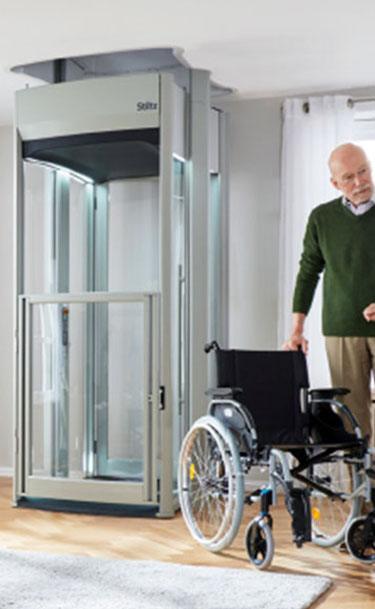 Stiltz Trio Thru Car – allows users to enter and exit from both sides of the elevator. This is made possible by the unique Stiltz dual rail technology. There is no other wheelchair home elevator of this kind on the market that is capable of different entry and exit points on different floors. It offers all the same features as the Classic.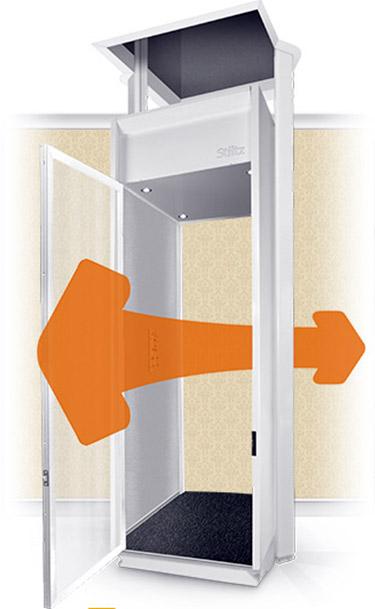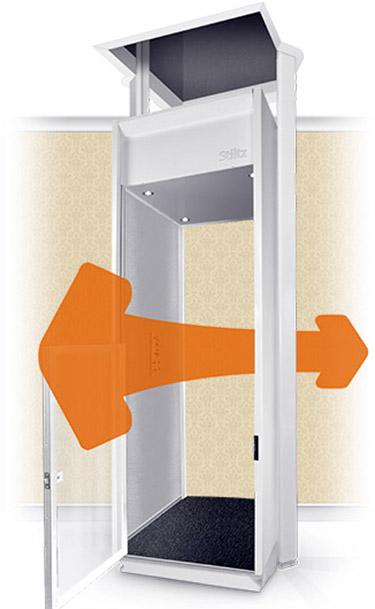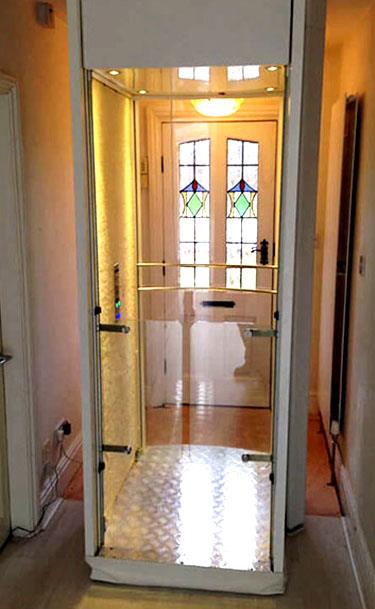 Stiltz Trio Wheelchair Elevator Benefits
Small Footprint
Smallest footprint of any wheelchair lift – covers less than 13.5 sf surface area
Quiet
Powered by a quiet electric self-contained motor – no noisy hydraulics or vacuum systems
Fast Installation
Elevators are made up of modular sections – standard installs take as little as one day
Power Consumption
Plugs into a regular 110v or 220v power outlet – like any other household appliance
Unique Guide System
Two parallel and vertical guides bear load of the lift – self-supporting structure
Self Contained Drive System
Housed at the top of the lift, out of sight
Lift Footprints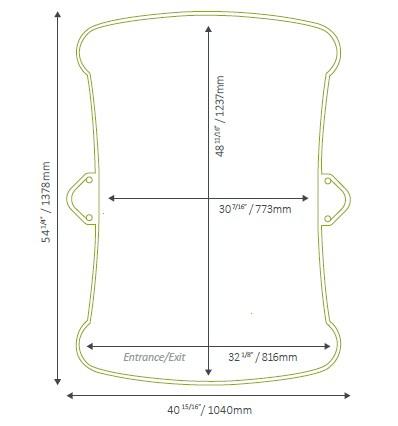 Trio Alta/Alta Thru Weight limit 485lb / 220kg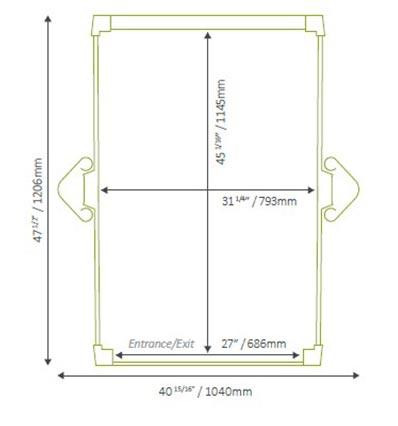 Trio Classic/Vista/Thru Weight limit 485lb / 220kg