Protégé Portable Wheelchair Lift – Ascension Portable VPL (Vertical Platform Lift) Serving Pittsburgh, Buffalo, Rochester, Syracuse, Erie, and Surrounding Areas
The Protege portable platform lift from Ascension is a versatile wheelchair lift that is also portable. This short-range wheelchair lift boasts a very high lift capacity of up to 900 pounds but also features a low profile making it ideal for use when an audience is present, or the need for proper sight lines is important. This high-capacity lift is ideal for use with stages, raised platforms, and other performance setups to allow those in wheelchairs to access the performance area. And being portable allows the wheelchair lift to be moved out of the way when not needed. With a footprint of only 52 inches wide by 61 inches long, this low-rise vertical platform lift can fit nearly anywhere it is needed.
Increased Lift Capacity
Vertical Travel: 4″ – 42″
Capacity: 900 lbs
Lift Footprint: 52″ W x 61″ L
Portable
Manufactured in Tuscon, Arizona USA
PROTEGE PORTABLE VERTICAL PLATFORM LIFT GALLERY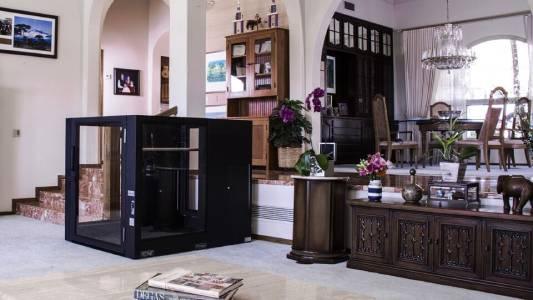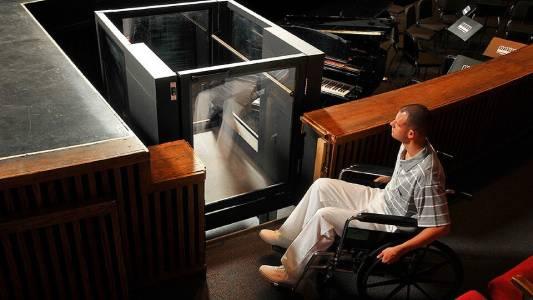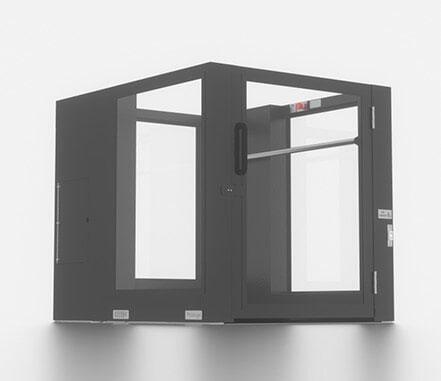 Standard Protégé Portable VPL (Vertical Platform Lift) Features:
Maximum Rise Height: 42"
Platform Size: 36" Wide x 54" Long
Required Space: 52" Wide x 61" Long
Weight Capacity: 900 lbs
Under Platform Safety Pan
49" Tall in Down Position
5 fpm Vertical Speed
Direct-Acting Hydraulic Drivetrain
120V, 13A Power Requirement
ADA Compliant
Floor-Level Entry and Exit Provided without the
Need for Installation Pits or Ramps
Optional Enhancements:
Outdoor-Use Packages
Custom Colors
Upper Landing Gate
Window Etching
Compression Tool Kit
Power Gate Operator(s)
Self-Closing Gates
Battery back-up
Have a tight space and don't want a wheelchair ramp? Choose the Protégé Portable Wheelchair Lift.
CONTACT US
PROTEGE PORTABLE VERTICAL PLATFORM LIFT DEMONSTRATION VIDEO
Protégé or Virtuoso – Which is right for you?
The Protégé and Virtuoso portable wheelchair lifts from Ascension are both great solutions for providing wheelchair access in small spaces. While similar, they each have some key benefits: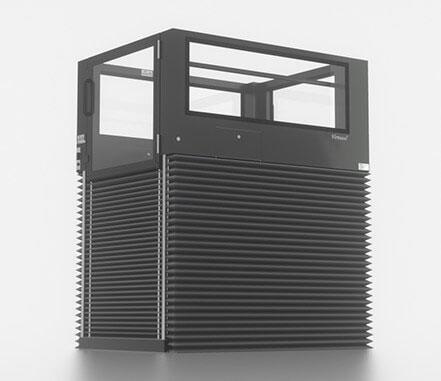 Virtuoso
Includes a 360° rigid-safety skirting around the full unit, blocking access underneath the lift.
Higher vertical reach than the Protege (Protege goes up to 42″, Virtuoso goes up to 60″)
Shorter unit, sight-wise than the Protege.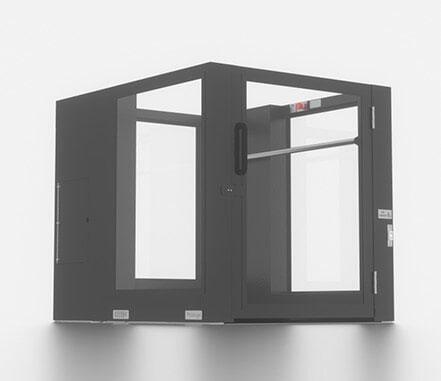 Protégé
Higher load capacity than the Virtuoso, up to 900 lbs (vs. the Virtuoso at 750 lbs)
Smaller footprint of only 52″ x 61″
Slightly lower costs than the Virtuoso