Hybrid Platform Lifts and Hybrid Wheelchair Lifts Serving Pittsburgh, Buffalo, Rochester, Syracuse, Erie, and Surrounding Areas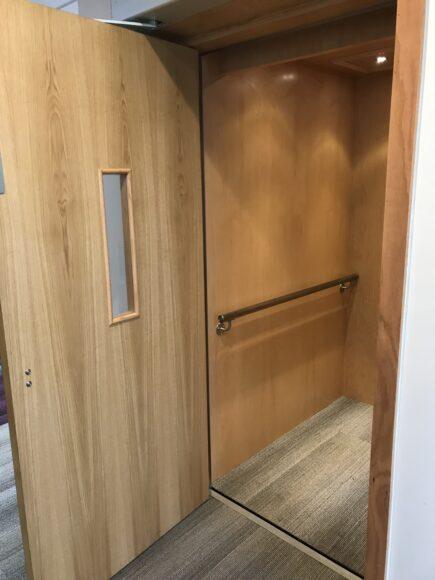 Our Hybrid Wheelchair Lift model serves as a cost-effective solution that eliminates the barrier that stairs cause for people with limited mobility.
The Access hybrid looks and feels like an elevator, but operates like a lift. Available in many different sizes and configurations, features include a full height cab, non-load bearing ceiling and a wide variety of optional features and finishes. Customize the doors & cab to match the style and décor of your home or commercial facility.
What makes the Access Wheelchair Lift unique and industry leading?
USA owned and operated manufacturer
Engineered to allow cost effective repairs
Industry leading 4 year warranty
ONLY Vertical Wheelchair Lift using the patented A.W.A.R.E. Diagnostics System: Active Wiring, Accessories, Relay & Electronics Diagnosis System (A.W.A.R.E.) is a fully functional on-board diagnostics system to manage and monitor every critical function of the lift. Available only through your local Access Distributor.
Classy in appearance, whisper quiet, energy saving, environmentally friendly
Unsurpassed in safety precautions
Match the style and quality of any home with over 200 optional colors.
1 code-compliant and designed for ease of installation.
HOW MUCH WILL MY HYBRID PLATFORM LIFT COST?
Standard Features:
Roped Hydraulic Drive system with Submersed Power unit
750 lb capacity
Speed: 30 FPM
Lifting height: up to 168"
Pit depth: 6" minimum (8" preferred)
Top landing ceiling overhead: 96" minimum
Steel constructed with electrostatic, powder-coated finish
Automatic cab lighting
Self Diagnostic System with Digital Display
Constant pressure, elevator-style control switch installed in cab
Emergency lights
Constant pressure, elevator-style, hall call control stations provided at each landing
Optional Enhancements:
Wide variety of custom fixture & interior designs
Remote mounted controller and hydraulic pump
ADA phone
Key switch to lock platform
Safety Features:
Un-interruptible power supply for car lowering in the event of power failure
Manual lowering
Alarm and emergency stop switch
Grab rail
Landing interlocks keep door locked when the lift is on another floor
Rupture Valve
Platform Sizes:
36" W x 48" D
36" W x 54" D
36" W x 60" D
42" W x 60" D