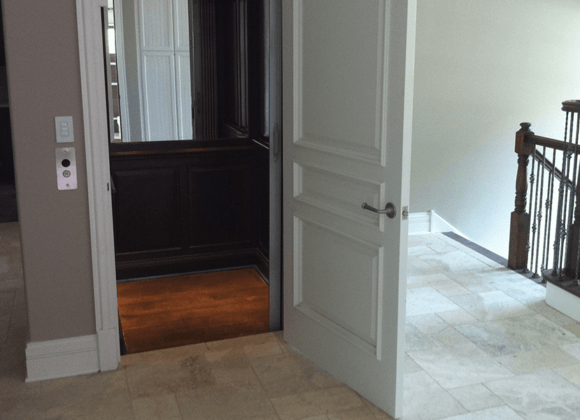 Winding Drum Drive Serving Pittsburgh, Buffalo, Rochester, Syracuse, Erie, and Surrounding Areas
The Symmetry winding drum elevator system utilizes heavy duty aircraft cables attached to a rotating drum.
Standard Features:
Travel: Maximum of 50'0″ (minimum 12" between stops)
Speed: 40 feet per minute
Rated Capacity: 1000 pounds
Overhead Minimum of 7'10″ (94")
Pit depth: 6" minimum (8" preferred)
Two stops
Single opening
Three-year limited parts warranty
Optional Enhancements:
Up to six stops
Single automatic push button operation
Custom car size up to 18 square feet
Custom car heights
Shaker or Recessed panel car with flush ceiling
Shaker or Recessed panel car with matching ceiling
Raised panel car with matching ceiling
4 recessed LED lights with black, brass, nickel or bronze trim rings
Factory finished car
Polished stainless steel, polished brass, black, vintage bronze and oil rubbed brass fixtures (including COP, phone box, hall calls, and handrail)
COP with integrated keypad phone
Custom wood interiors
Custom factory finishes (antiqued, distressed, & crackle)
Green material alternatives and finishes for car interiors
Symmetry Safety 3 Panel Car Door
Two & Three speed car or car and landing doors
Wrap around car door
Enterprise collapsible gate
Hardwood veneer accordion gate
Clear panel accordion gate
Automatic car gate/door operator (not available on Enterprise collapsible gate)
.75" finished or unfinished factory installed hardwood car flooring
Factory flooring insert for 1/4" flooring by others
Buffer springs (requires minimum of 10" pit depth)
Key switch for COP and hall stations
750 pound car capacity
Accordion gates will have bronze hardware except on white, chalk, or antique white gates. Acrylic gates will have clear hardware when stainless or black fixtures are provided.
Safety Features:
Slack rope safety device
Motor controller supply disconnects (located in controller)
Car light supply disconnects (located in controller)
Pit stop switch
Car top stop switch
In-car emergency stop switch and alarm
Safety switch for car gate(s)
Battery back-up emergency car lights and alarm
Electromechanical hoistway door interlocks (doors by others)
Light curtain monitoring the car entrance
Call Access Elevator (716) 483-3696 today to find a distributor in your area.
Offering Stairlifts, Wheelchair Lifts, Home Elevators and more to Rochester, Buffalo, Syracuse, Erie and the surrounding areas.