If you're evaluating accessibility options in your building, and are looking for something smaller than a full commercial elevator – consider a LU/LA elevator from Access Elevator. Symmery's Limited Use / Limited Application elevators are ideal for many situations in businesses, homes and other facilities.
Not all LU/LA elevators are designed the same.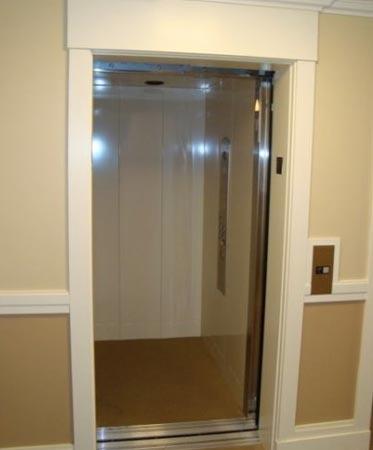 Providing the shortest overhead in the industry, the shallowest pit depths, directional indicators, and other customizable features, Symmetry LU/LA elevators have earned a reputation for being the best limited use and application elevators on the market due to their safety, quality, and variety.
Safety – Having a safe elevator installed in your home or business is of paramount importance, and the Symmetry LU/LA delivers with a range of unique safety features such as care stop switches, bi-directional floor leveling, emergency backup power supply, and more!
Quality – Purchasing a home elevator is a long-term investment, you need to be sure that you're getting the most for your money–and with Symmetry, you are! Made in the USA, these ADA-compliant LU/LA elevators are built with a six-stop capacity and a plethora of other user-friendly benefits for a high-quality experience.
Variety – Symmetry gives you the option to customize your LU/LA elevator with a range of customizable features including:
Buffers
Custom Wood Cabs
Over Speed Governor
Fire Rated Cab Gates
3 Phase Motor
Additional Overhead, and more!
At Access Elevator we proudly offer Symmetry LU/LA elevators to Pittsburgh, Ithaca, NY, Buffalo, Morgantown, WV, Erie, Rochester, and the surrounding areas. Ideal for residential and commercial use, our LU/LA elevators offer safe and convenient access to the multiple levels of your home/business. With over 50 years of experience offering the most advanced, affordable, and reliable accessibility solutions, we've stayed current on the latest trends in elevator technology to equip your home and/or business with the very best technology available.
Contact us today to learn more about our Symmetry LU/LA elevators for your home/business and get a free quote!