Stairlifts are a special mechanical device that lifts people up and down stairwells with minimal to no effort on their part. Equipped with their own charging units and sturdy platforms, stairlifts move occupants up and downstairs swiftly in a seated and secure position.
Stairlifts are ideal for those with limited mobility or those who are confined to a wheelchair. However, not all stairlifts are the same. There are many different styles of stairlifts for Pittsburgh buildings that can be installed in your home or business for increased mobility and accessibility function.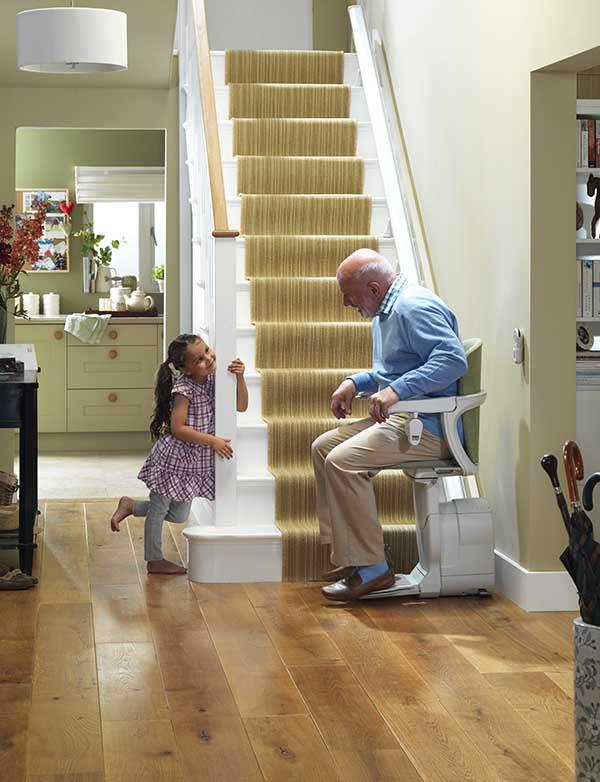 Straight Stairlifts- Straight stairlifts accommodate stairwells without curves or turns. With a simple mechanical function, these lifts move up and down your stairwell freely and are easily to install.
Curved Stairlifts- Curved stairlifts are built around stairwells that have turns or unique shapes and styles. Often times, the design of your stairwell contributes to the style of your home; curved stairlifts help you maintain the unique and attractive look of your staircase all while increasing mobility and accessibility.
Outdoor Stairlifts- Just like indoor stairlifts, outdoor stairlifts are built to enhance mobility function for external staircases. Even if houses are not two stories, some models have attractive staircases leading to the entrance, which can be bothersome or problematic for those with limited mobility.
Stairlifts with Retractable Rails- Stairlifts with retractable rails are a specific model of stairlift that has rails at the bottom of the stairlift that retracts and lower automatically. These rails act as an additional safety function that can help keep you safe when mounting or dismounting your stairlift.
No matter which stairlift you choose, one thing's for sure, stairlifts help those with limited mobility increase indoor and outdoor accessibility and provide additional value and function to your home or building.
Residents and commercial building owners in Pittsburgh looking to enhance the mobility of their home or building turn to Access Elevator for their mobility solutions. With a wide range of products and styles, Access Elevator has kept up with the most recent and innovative mobility solutions over the last 30 years for those seeking practical accessibility options that are affordable and functional. Call now to learn more about the stairlift or home elevator that's right for you!