If you're struggling with indoor mobility, then it may be time to explore home mobility technology. You don't want to relocate from your home, but you need a practical solution to provide you with independence and increased mobility indoors–we get it, and we're here to help!
At Access Elevator we provide you with indoor mobility solutions from the comfort of your home. From stairlifts, platform lifts, elevators, and more, we are passionate about providing you with ideal solutions for your needs and your home.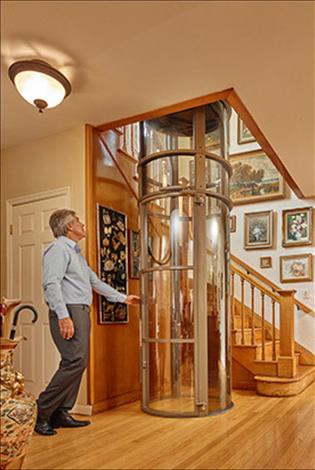 Amongst our most effective home mobility technologies are vacuum elevators. But you may be wondering, what is a vacuum elevator?
Vacuum elevators are small, easily-installed, and powerful home elevators that use air pressure and pumps to travel up and down multi-story homes. Replacing traditional elevator cables with powerful air pressure technology, these vacuum elevators make a great addition to any home and provide you with a range of benefits, including:
Vacuum elevators are a self-supporting technology, meaning, they are free-standing at the ground surface.
Vacuum elevators can plug directly into 220V, just like other household appliances.
Vacuum elevators are energy efficient, costing you less than traditional elevators in the long-run
Vacuum elevators require minimal maintenance.
Vacuum elevators don't require much space to install, leaving the structural integrity of your home in-tact.
We serve Pittsburgh, Erie, Ithaca, NY, Morgantown, WV, Rochester, Buffalo, and the surrounding areas with affordable vacuum elevators to fit all your home mobility needs. Installing elevators with little to no interruption to your routine, we guarantee that we'll be in and out quickly, providing you with vacuum elevator technology you need ASAP!
With our team of skilled, licensed, and passionate technicians on the job, your home will ready to accommodate your mobility needs in no time, so you can move freely about your home with ease. Contact us today to learn more about our vacuum elevator options.