Unenclosed wheelchair lifts may be one of the easiest adaptive devices you can install for wheelchair accessibility. Cost and space friendly, unenclosed wheelchair lifts can be installed on porches, mobile home decks, stages, office entrances, stadium seating, churches and more. This may be the answer you've been searching for when looking for accessibility for wheelchairs and scooters.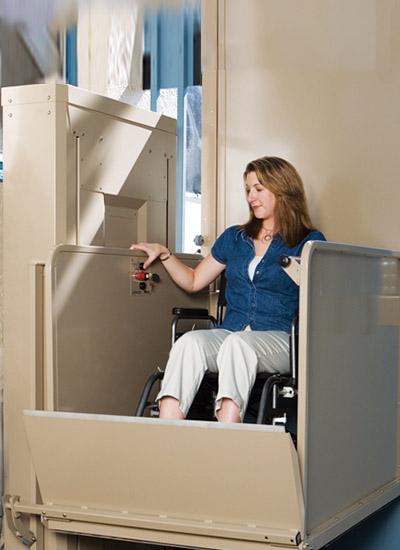 Some users may look at an unenclosed wheelchair lift and be hesitant to use it. Have no fear that unenclosed wheelchair lifts have been designed with the utmost safety in mind. Unenclosed wheelchair lifts have been designed using the patented A.W.A.R.E. Diagnostics System: Active Wiring, Accessories, Relay & Electronics Diagnosis System. This is a fully functional on-board diagnostics system to manage and monitor every critical function of the lift and is available only through your local Access Distributor.
Here are some other benefits.
Appearance. Designed to blend, not intrude, into the aesthetics of your home or building with wood grain and multiple color options available
Energy Saving. And, also environmentally friendly
Cost. Less than other options and certainly less than moving to a new home or building
Durability. Industry leading 4-year warranty and a 750-pound capacity for long, reliable use
Ease of installation. Code-compliant and designed for easy install. Additionally, a pit of only 6" is needed making a hybrid wheelchair lift more accommodating than alternatives.
Safety. In addition to the features above, nonskid platform surface, alarm and emergency stop switches and more
Versatility. Up to 60" for commercial applications and 168" for residential applications. Also available in different sizes for wheelchair and/or scooter use.
Space saving. For when a ramp is not an option
USA owned and operated manufacturer
The benefit of working with Access Elevator is that our team has the knowledge of local codes and compliance. With locations in Buffalo, Pittsburgh, Rochester, Syracuse, Erie, and Jamestown, you are getting the knowledge and experience of local installation experts throughout upstate New York and Western Pennsylvania. And, you're getting a local office that can install your unenclosed wheelchair lift in a short amount of time.
Not all areas allow unenclosed wheelchair lifts in all applications, such as commercial or retail. Also, varying laws and municipality codes state whether unenclosed wheelchair lifts can be in different areas, so, contacting an installer familiar with your area is your first step. Also, height and ADA compliance parameters will need to be considered.
Access Elevator delivers highly functioning stair lifts, chair lifts, and home elevators to customers throughout Erie, Pittsburgh, Syracuse, Rochester, Buffalo, and surrounding areas. Currently, the Access Elevator team installs hundreds of customized lifts and elevators a year.