You deserve to move freely throughout your home–and with hybrid wheelchair lifts, you can!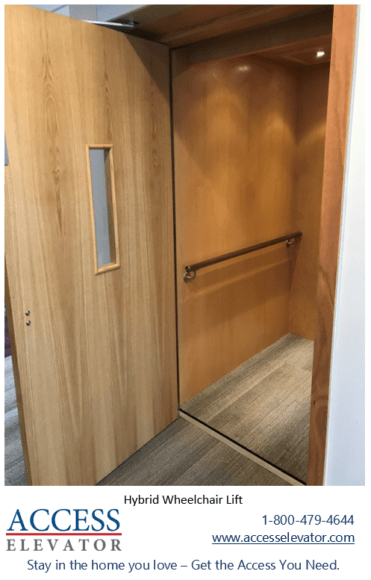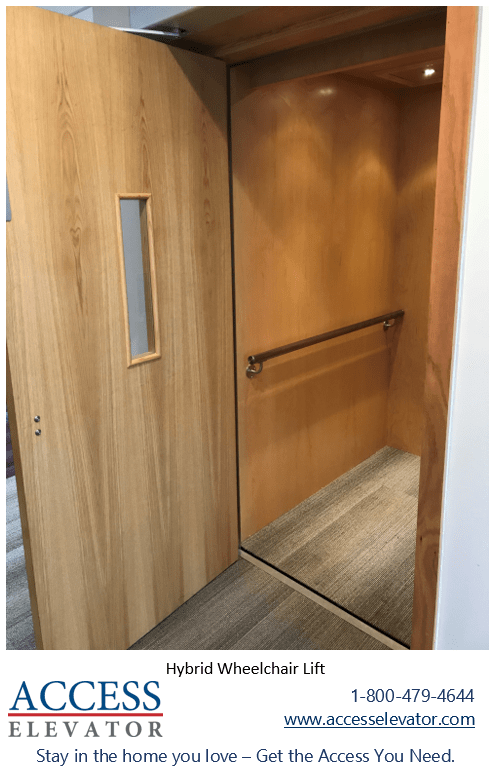 Here are the top 6 benefits of hybrid wheelchair lift technology:
Style – Our hybrid lifts provide you with a similar look and feel as elevators, but operate as a lift. With over 200 colors and style options available, you can customize your hybrid wheelchair lift to fit your home's unique style.
Independence – With the capacity to reach heights of 168", you don't need to worry about limited accessibility.
Safety – You can't put a price tag on safety! If you have limited mobility, then you need safe accessibility solutions that will give you peace of mind and convenient access to the multiple levels of your home/building. Not only are hybrid wheelchair lifts safe by design, but the lifts we offer are equipped with additional safety features (rupture valves, landing interlocks, emergency stop switches) for optimal security.
Longevity – Hybrid wheelchair lifts are built to outlast the ages. With simple installation and a four-year industry-leading warranty, you'll enjoy the benefits of your hybrid lift for years to come.
Cost – Looking to increase indoor mobility at an affordable price? Hybrid wheelchair lifts are the ideal solution! Not to mention, our hybrid lifts are engineered for low-cost repairs if needed.
High Traffic – Hybrid lifts are best used in high traffic situations. Having an elevator body gives them an advantage over a normal wheelchair lift.
At Access Elevator we offer hybrid wheelchair lifts to Buffalo, Rochester, Pittsburgh, Erie, Ithaca, NY, Morgantown, WV, and the surrounding areas. Working with the most respected brands in wheelchair lift technology, our team of experienced technicians gets to know you personally to help you find the right accessibility solutions for your home and/or business.
Whether you're hoping to have a hybrid wheelchair lift installed for the first time, or you need to replace your old and outdated lift, we're here to offer the right solutions at the right price.
In addition to offering unmatched client attention, we have over a half century of experience keeping up with the latest advancements in mobility technology to provide your home/business with the best mobility solutions on the market. Contact us today for a free quote!