As home elevators are becoming more and more popular, the options are also. One elevator that solves a lot of problems encountered from past elevators is the Stiltz Lift. The Stiltz Lift is unique in design and in affordability and really deserves to be part of anyone's list when looking for the convenience of a home elevator system.
Stiltz Lifts offering convenience and mobility
The lack of available space or structural integrity in older homes has unfortunately put elevators out of reach for many individuals that need them, in order to remain in their homes. Add this to the fact that people are living longer and there is a growing lack of affordable housing for seniors. Luckily, Stiltz Lifts fill this void by offering a new choice in elevators to homeowners.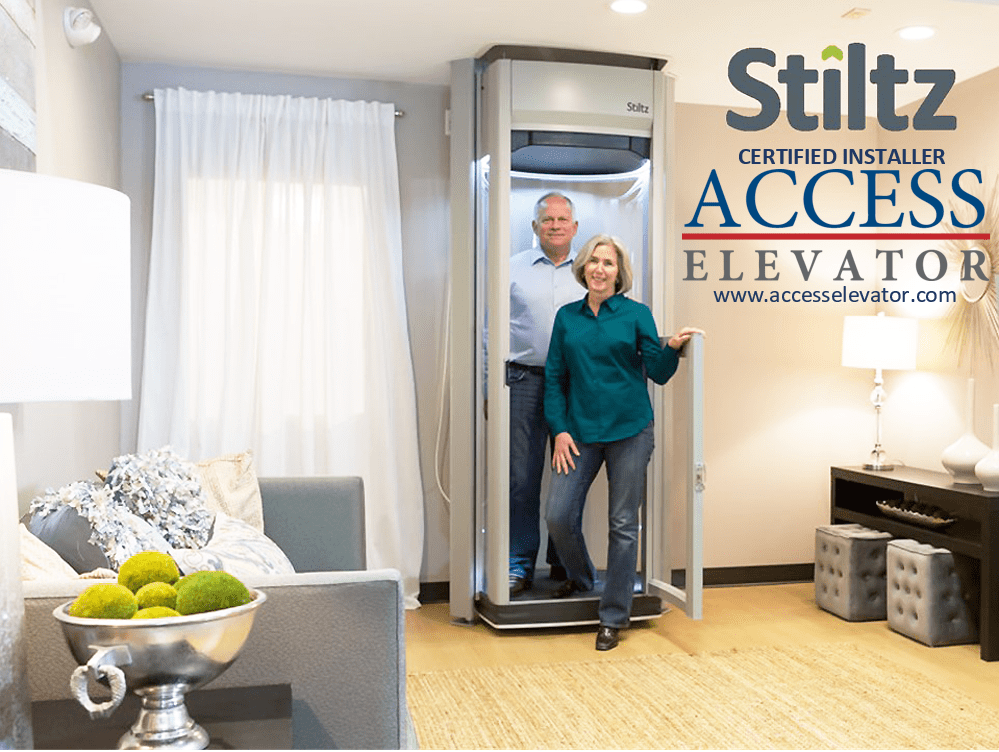 Here are some of the amazing features of the Stiltz Lift installed by Access Elevator:
Amazing Stability. Twin posts that take minimal footprint space but also give the elevator stable support. Previously this stability could only be found in elevators installed along load-bearing walls. The Stiltz Lift can be installed in an area previously used by an internal closet, in a stairway void, or located to a convenient location like a bedroom.
Attractive look. Elevators in the past have been bulky, as well as uncomfortable for those who don't like tight spaces. The Stiltz Lift is available in a popular and attractive cream color, grey, green, yellow, orange, blue, or in a clear body made from polycarbonate for a contemporary look. Additionally, because the supporting structure is only the twin posts, there is no bulky shaft to block light and darken surrounding rooms.
Quick and affordable. Again, the simple structure means no extended construction time with excess dust, noise and disruption. Since the structure is simple yet strong, the cost may be more affordable then you think. It certainly is more affordable than the cost of having to move into a new home in order to find a living space that works for your needs.
Wheelchair accessible and friendly. Not only can some of the Stiltz Lift models fit a wheelchair or standard walker, one model made by Stiltz and carried by Access Elevator has a thru-car meaning it can be opened on both sides.
User friendly. One of the quickest elevators available at 36 feet per minute means the Stiltz Lift can let people with mobility issues get where they need to be, which in some cases may even be quicker than using the stairs. Occupants will need to apply constant pressure to the controls inside the car while running the lift. An emergency stop button is also included if needed. Remotes allow users to send heavy items between floors without being inside the elevator. This is a great way to transport luggage, boxes, linens or perhaps even a pet with mobility issues.
Quiet. A rare find in elevators due to the mechanism nature of moving the car, the Stiltz Lift is quieter than many other models. Also, since the motor itself is so quiet, there is no need to split the motor between two areas which is a benefit for areas already tight on space.
The Stiltz Lift gives homeowners mobility and freedom in the comfort of their home. With all of the features and safety options, the Stiltz Elevator should be a contender for any homeowner looking to increase their mobility.
Access Elevator delivers highly functioning stair lifts, chair lifts and home elevators to customers throughout Erie, Pittsburgh, Syracuse, Rochester and Buffalo. Learn more at our website www.accesselevator.com or call 1-800-479-4644.