Symmetry Elevators in and around Buffalo, Rochester, Syracuse NY, Erie & Pittsburgh, PA
Choose your cab…
Symmetry offers a 7' 0" Flat panel veneer in Oak, Maple or Birch as a standard feature.  Not what you're looking for?  Use our own in house custom cab shop you can upgrade to the industry's best and most cost-effective cab to add a personalized touch.
Flat Panel-Flat Panel Home Elevator features a smooth wooden cab interior. Our most affordable option, flat panel styles offer simplicity and functionality to your home elevator.
Shaker Panel-This cab features a solid hardwood center and surrounds with an inset hardwood veneer.
Inset Panel-a cab which economically offers a coupling of hardwood and veneers which adds depth to your cab.
Raised Panel-Today's best cab available features full hardwood throughout with unmatched quality to perfectly complement your home.  Each cab is available with your choice of finishes and clear coat.
Your Symmetry Home Elevator comes standard with a 7' 0" accordion gate in your choice of light oak, dark oak, white or antique white.  Your elevator also comes standard with a recessed phone box and digital COP (Car Operating Panel) in brushed stainless, and of course your gates and finishes are fully customizable.
Choose Your Drive System…
Quality without compromise.  Each drive system is ruggedly engineered to provide years of reliable service.  Whether it's the whisper quite operation of the Hydraulic Drive, the space savings of the machine roomless Inline Gear Drive (IGD) or the Winding Drum that offers a perfect blend of features you can rest assured that you are choosing quality.  That is why your Symmetry home elevator features the industry's best warranty.
Why Symmetry Home Elevators?
Symmetry is a 100% American owned and operated Home Elevator and Accessibility Company.  Elevators designed and engineered for installers and homeowners, not shareholders.  Symmetry is a privately held company that means there are no shareholders to pay.  Our investment and yours goes into producing the best and most reliable elevator system available today.
With local installation and warranty, Symmetry Home Elevators are built with the customer in mind and not for internet sales.  Internet Elevators compromise quality and components to achieve an attractive sale amount…often advertised at $11,995. A home elevator is a long-term investment, properly installed and maintained, it should be operational in 50 years.  How many furnaces, dishwashers or internet elevators would you go through in that time?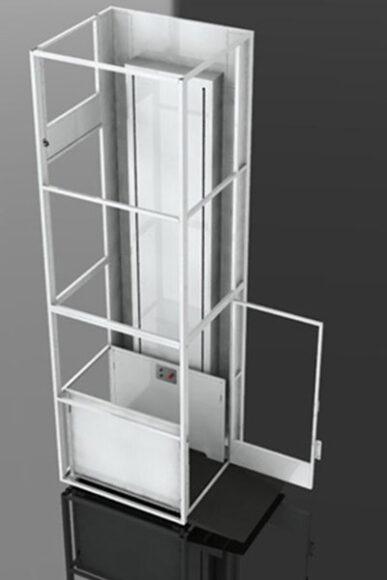 In Line Gear Drive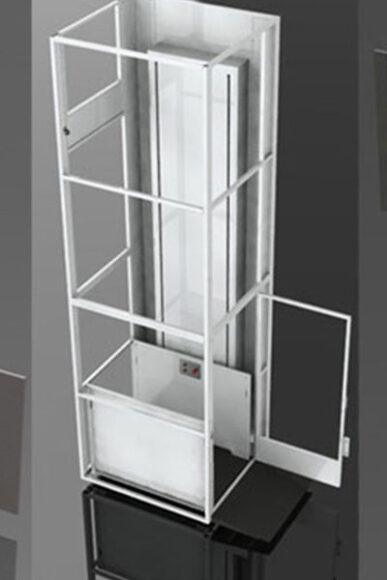 Hydraulic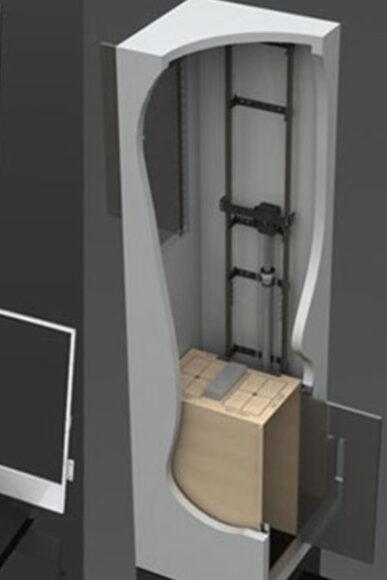 Winding Drum
Who is Symmetry?
Symmetry is a hand selected local dealer network throughout North America that is comprised of the most qualified and competent Sales, Installation and Management teams.  Access Elevator's installation team covers Upstate NY and Western Pennsylvania.  Are we outside your coverage area?  Click here to find your local representative.
How much will my Symmetry Home Elevator Cost?
You can click on the build a price logo to have a sales representative build a custom quotation for your installation.
Links
Travel: Maximum of 50' (minimum 12" between stops)
Speed: 40 FPM
Load Capacity: 950#
Overhead Minimum of 8' (96") with remote controller
Pit depth: 6" minimum (8" preferred)
Two stops
Single opening
Three year limited parts warranty
This information is intended for informational purposes only and should not be used for construction.  Please contact your local Access dealer for a job specific drawing.
** May require local code authority approval