In one form or another, stair lifts have been around for almost 100 years. Using new home-installed electricity, inventors found a way to help friends and family who suffered from mobility issues remain comfortable in their own homes. By using chairs powered by pulleys and cables, they could be lifted up and down flights of stairs. While stair lifts were first created to help victims of polio, they were soon discovered to be extremely helpful for any person with mobility issues.
Today, stairlifts can be found in many homes in order to solve accessibility concerns. Thankfully, due to the versatility and function of various models, more homeowners can incorporate a stairlift than ever before. Access Elevator has stairlifts that can go around curves, units that have retractable rail options to avoid tripping hazards at the bottom of the staircase, and some stairlifts can even be installed in outdoor applications. However, the most common stairlift is the straight stair lift. A straight stair lift is typically what comes to mind when most people think about stairlifts. The popularity of straight stair lifts is partially due to the nature of their simple function and the easy installation.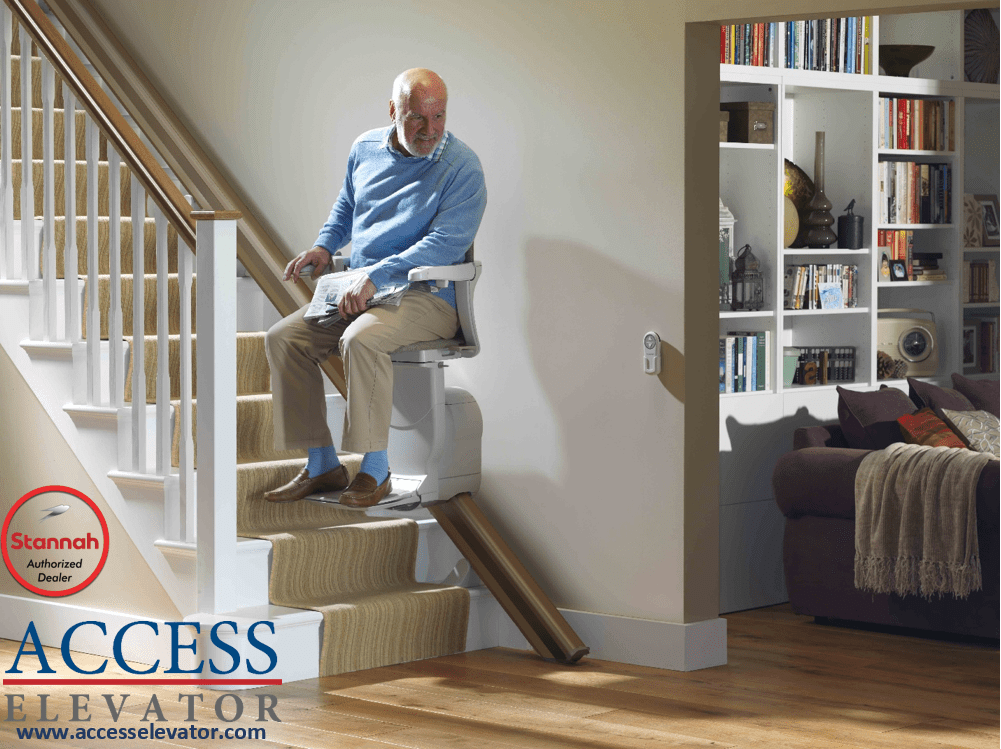 Straight Stairlifts easily and quickly installed
Straight stairlifts are quite simple. Basically, the whole unit is made of two parts – the track and the chair that include the motor and wheels which drive the ascent and decent. Contrary to popular belief, the track is not installed to the wall. Tracks for straight stair lifts are installed on the risers of the stairs. This means homeowners don't have to worry about damage to the structure of their house or if their walls are able to hold the weight of the track. The installation for straight stairlifts is quick, simple, and fast. Access Elevator can install a straight stairlift in less than one day. The rapid installation has been one of the reasons many families have made the decision to go with a straight stair lift. If a loved one is at a hospital or rehabilitation center, the straight stairlift can be installed before they come home allowing them to gain additional freedom and mobility.
Straight Stairlifts cost and functional features
One of the most common questions about straight stairlifts is regarding the cost and functional features. Let's start with the functional features. First, stair lifts are not impacted if there is an electrical issue in the home. The chair itself runs on a battery that receives its charge from electricity and then stores the power. While connected, the battery is being continually charged and will hold its charge if a stoppage in electricity occurs. Also, all straight stair lifts by Access Elevators come with a remote control allowing the user to recall the chair. This feature is crucial when installed in a residence with two or more users.
And now, the cost. Cost depends on the model and different features desired. The most popular straight stairlift units will run in the $3,000 – $4,000 range. In most cases, that cost is less than many of the costs associated with moving to a new house or an independent living center. The benefit for many families and friends is that their loved one can remain in their home and near to their neighbors and other surrounding comforts. The value of staying mobile within the home you love is priceless.
Access Elevator delivers highly functioning stair lifts, chair lifts and home elevators to customers throughout Erie, Pittsburgh, Syracuse, Rochester and Buffalo. Learn more on our website www.accesselevator.com or call 1-800-479-4644.