There comes a time in many people's lives when mobility starts to become an issue and eventually turns into a problem affecting everyday living. According to the US Census Bureau, nearly 40% of seniors 65 and older have at least one disability. Of those, two-thirds, or 15.7 million, mentioned walking or climbing as a difficulty. With the aging population, the cost of assisted living rising, and the lack of accommodations in assisted living facilities, modifying current homes is often the best solution.
Stiltz Home Elevators, installed by Access Elevator, are one option that can be modified to fit a number of different applications for various home designs. Today's seniors may still be living in homes that they have lived in for many years and may think incorrectly that their home cannot be modified to incorporate a home elevator. However, the Stiltz Home Elevator's twin posts take up only minimal footprint space while also providing amazing stability. Previously, this stability could only be found in elevators installed along load-bearing walls, but now more options are available. The Stiltz Elevator can be installed in an area previously used by an internal closet, in a stairway void, or located to a convenient location or corner in a living room or bedroom.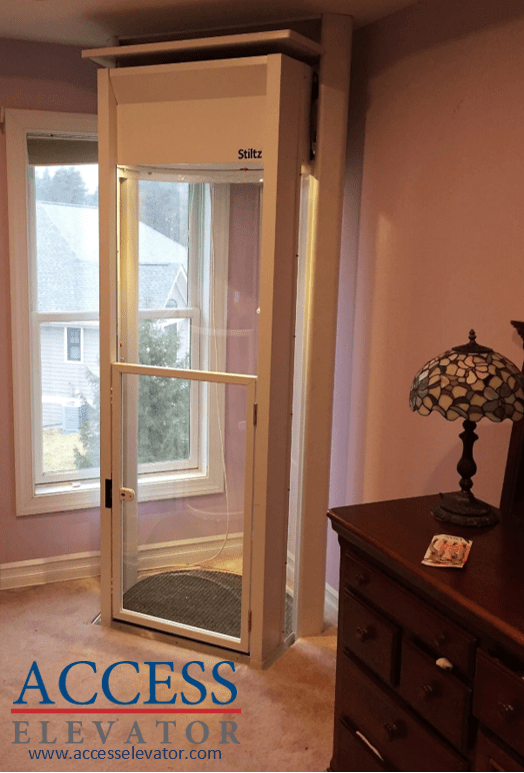 Here are some more configuration options.
Stairwell void/landing. Generally, this is where a staircase makes a 90-degree turn leaving a void where a Stiltz elevator is in perfect positioning.
Closet. Using a closet on the first or second floor provides a hidden use for the compact Stiltz without changing the aesthetics of your interior design.
Sloping/vaulted ceilings. The vertical rails used in the installation can be modified to fit uneven surfaces. Perfect for both vaulted bedroom ceilings and installations into an attic room.
Garage. Perfect for townhomes or other dwellings where residents have to climb two or more flights from the garage to the living room or bedroom space. Also facilitates in carrying groceries or other items to living areas.
Thru–car. Unique to Stiltz home elevators. Both sides of the lift can be accessed for easy entry and exit for a custom home configuration.
The costs for Stiltz Home Elevators are less than moving into assisted living and will help homeowners to enjoy mobility and freedom in the comfort of their own homes. With all of the configurations, features, and safety options, the Stiltz Elevator should be a contender for any homeowner looking to increase their mobility.
Access Elevator delivers stair lifts, wheelchair lifts, and home elevators to customers throughout Buffalo, Rochester, Syracuse, Erie, Pittsburgh, and the surrounding areas. Learn more at our website www.accesselevator.com or call 1-800-479-4644.