Stiltz Elevators are like no other elevator you've even seen before. When thinking about a home elevator, you probably think about a clunky, noisy, slow-moving cramped elevator in a mansion. Elevators like these might make you nervous from being so tight and its awkward operation. But if you were to picture an elevator from the future, it would look like a Stiltz elevator.
Stiltz elevators have a twin post design that incorporates the traditional hoist system of an elevator.  This means even with just two posts, it has reliability, longevity, and SPEED! We're talking 36 feet in one minute. Also, the amazing twin post design means it can be installed in many areas other elevator systems can't go. For example, Stiliz Elevators can go in an unused coat closet, through the floor into a bedroom or from a garage to the first floor.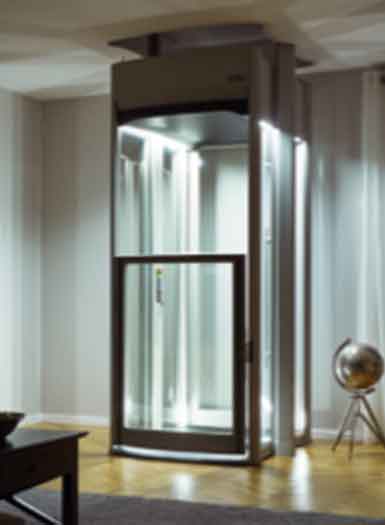 Also, the Stlitz elevators are very modern in their design. Instead of a traditional four-sided, boxy design, Stlitz Elevators have a sleek modern design with clear sides and clear car. No more of the boxed-in design feeling cramped and possibly nerve-inducing.
And, we haven't gotten to some of the best features of Stiltz Elevators. The price and installation. Because of the twin post design and efficient motor system, Stiltz Elevators can be installed very quickly, sometimes in as little as two days. This means you might be able to have it installed for when a loved one comes home from the hospital or rehabilitation facility. And the last feature – price. Another result of the design and minimal equipment needed, Stiltz Elevators can be much more affordable than other types of elevators.
You and your loved ones deserve the option of looking into Stiltz Elevators for your home use. With all the features and benefits, they might just change your mind about home elevators. At Access Elevator, we are your trusted source for planning and installation of your new home elevator.