Stair Lifts, Home Stairlift Sales, Installation, and Home Stairlift Service in Rochester, NY for Straight Stairlifts
If you consider stairs a problem due to your limited mobility, you are not alone. Each year thousands of people seek a solution to the problems posed by having a staircase in their home.
Access Elevator stairlifts are the preferred solution for anyone with mobility issues that have trouble accessing the second story of their Rochester, NY home. Access Elevator is dedicated to providing the best service and with so stair lift options, we can help find the right product to fit your home and lifestyle.
Stair Lifts in Rochester, NY
Straight stairlifts are a great solution to overcome the challenges of climbing up straight staircases. Our straight models are simple and safe, and most importantly, improve your home mobility. Do you need a stairlift that goes around curves and corners instead? Learn more about our curved home stairlift service in Rochester, NY. Whether you need a straight stairlift or a curved one, our expert home stairlift installation can usually be completed within a couple of hours.

HOW MUCH WILL MY STRAIGHT STAIRLIFT COST?
Key Features of Straight Stair Lifts for Rochester Homes: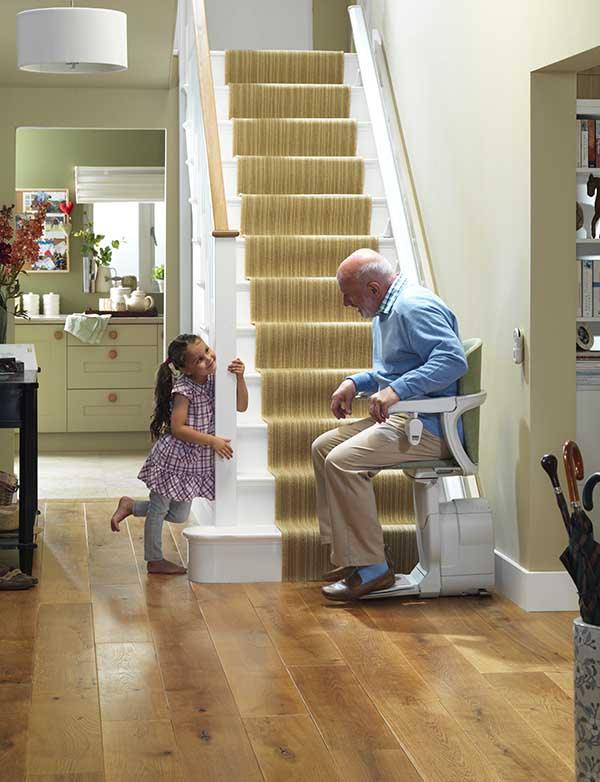 Continuous Charge: This useful function allows the lift to be parked on any part of the track when not in use and still stay charged. This means that you don't need to worry about where you leave your lift on the track because the batteries will charge while left in any position.
Powered Swivel: In order to exit onto your landing safely, you may need to swivel the seat around to a new direction. With a manual swivel option, the stairlift comes with a handle at either side of the seat, locking in place toward the landing. However these can be challenging to use for some.
Our powered swivel option is operated by a simple-to-use toggle when you arrive at the landing of the staircase. This powered swivel also has a manual override for emergency release if necessary.
Powered Footplate: To save space when not in use, the footplate and seat be folded up. This allows the staircase to be as clear as possible for other users. Manual footplates are fitted with an easy fold mechanism that reduces the amount of force required to fold the footplate up and down and must be lifted and lowered by hand. Choosing the powered footplate option instead means you no longer have to bend down to fold or unfold your footplate.
One popular options is to have a footplate that folds automatically when the seat is folded and unfolded. It can also be operated separately from the seat by using a switch in the seat arm. That way you can operate the footplate while seated.
Parking and Calling your Straight Stairlift: Our straight stairlifts come with remote controls allowing you to send your stairlift up and down the track without sitting in it. This feature is perfect for multi-user situations as your stairlift can be called between levels, just like an elevator.
Stair Lift Sales in Rochester, NY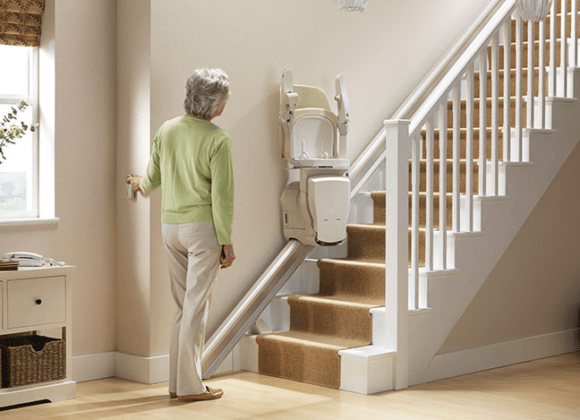 Rochester boasts a wide variety of beautiful historic homes, and although this helps to add to Rochester's unique charm, it may pose some challenges to those with mobility issues. For close to 50 years Access Elevator has helped many local homeowners overcome these mobility challenges with home stairlift sales and installation. We work one-on-one with every client to ensure that they are provided with the right products to best meet the needs within their Rochester home. Our stair lifts are made right here in the U.S. and are installed by our highly-knowledgeable and experienced technicians. You too can enjoy safety and convenience in your home for many years to come with our home stairlift services.
Wherever you are in and around Rochester, NY, including the 14609, 14612, and 14621 zip code areas, Access Elevator has a complete home mobility solution for you! Our staff is standing by to help you compare any of our fine products and assist you in selecting a straight stair lift that is right for you. Contact our Rochester, NY office or call (585) 442-8480 today to learn more.