Making Your Church or Synagogue Accessible
It's been said that the most beautiful thing about a room, are the faces inside it. Nowhere is this truer than in a place of worship. Ensure all your congregation can attend services by installing the proper equipment to provide access to your house of worship. You may not realize how quickly your members can lose mobility and can't carry on with many of their activities. Providing access to services, fellow community members, offices, church functions, and activities might be some of the only things they look forward to when leaving their home.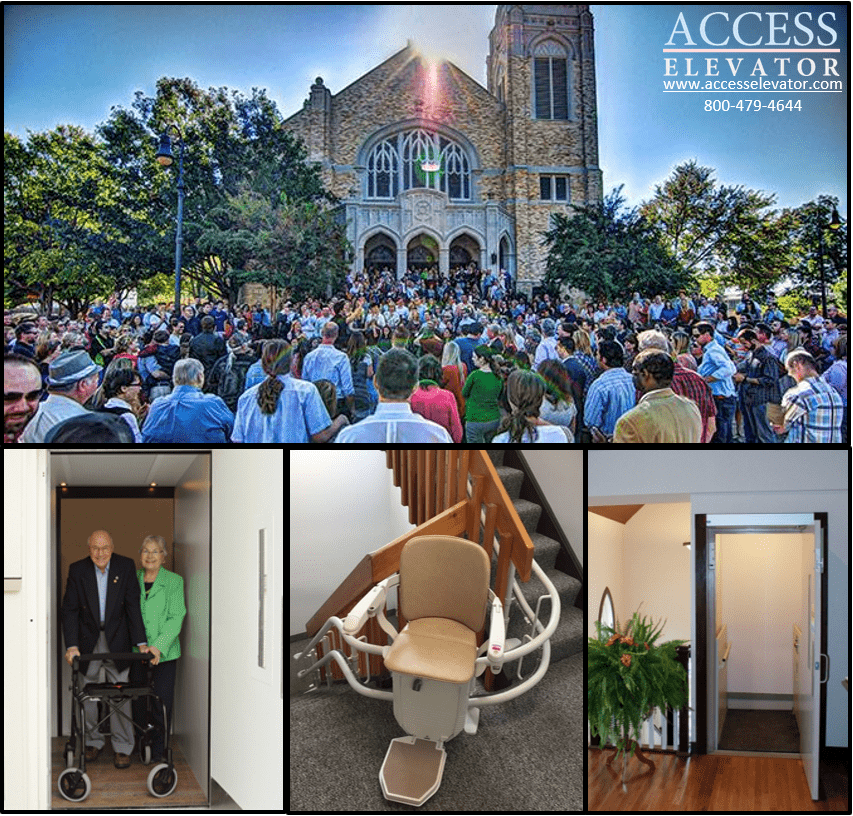 There are many different options when starting to look for lifts or elevators. One thing you might want to keep in mind is where exactly your parishioners will need access. Obviously from an entrance to the sanctuary. But what about to bathrooms, halls, lounges and more? All members of a church should feel welcome to all church activities.
Access Elevator has been helping businesses, churches and residential homes with mobility access options since 1969 throughout New York including the Buffalo area. Churches and Synagogues are encouraged to call the experts at Access for a free estimate on what can be done to help their parishioners with limited mobility. Churches may know exactly what they are looking for or simply may be looking for options and guidance. Either way, Access Elevator can help with all options including:
Stairlift – attaches onto the steps of the stairs for easy access to different floors. Can be customized to work on unique shapes. Also is an affordable option.
Wheelchair lift – most affordable option for lifting a wheelchair. An ADA compliant solution.
Small commercial elevator – easy to use and ADA compliant.
While most churches are legally exempt from ADA compliance enforcement, any church that rents out their facility to a paying entity must have ADA access availability. This could limit any potential income churches make by renting out their hall, kitchen or other area. If space is donated to a non-profit or other organization, then compliance isn't necessary but is always appreciated.
Whether you are a Buffalo, NY area church looking to retro-fit an existing building or are in the process of building a new location, let Access Elevator help you in choosing the best accessibility option to allow all members of your congregation to feel welcome.
Contact your local Access Elevator office today and our knowledgeable, professionally trained design consultants can help you find the elevator or lift that's right for your budget and your facility. https://www.accesselevator.com/stair-lifts-and-elevators-for-churches-and-synagogues or call 1-800-479-4644.