If you live in a multi-story home and you find that navigating indoors is a challenge, it may be time for you to explore the option of purchasing a stair lift. Deciding to install a stair lift doesn't mean that you're losing your independence. In fact, stair lift technology can help you regain independence in your home and give you the option to travel up and down stairs smoothly with less assistance.
But with so many stair lift brands out there claiming to be the best, how do you know what stair lift is right for you?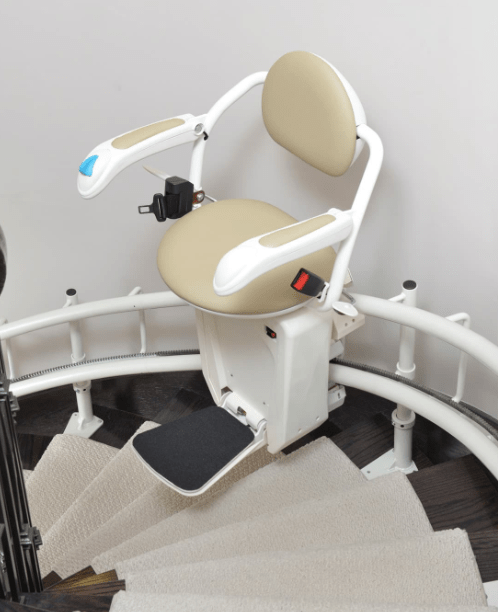 Savaria Lifts have gained a reputation for being one of the most attractive and durable lifts on the market. The following advantages of Savaria lift technology are why homeowners like you are choosing Savaria lifts for their home stair lift solution.
Made in North America – Savaria is a North American company operating out of Canada. With each and every element of Savaria lifts being handled with the utmost attention to detail, Savaria lifts are built to last for years to come.
Quality Technology – Since 1989, Savaria has kept up with the latest trends and engineering in stair lift technology. Accommodating various types of staircases, Savaria lifts can be customized to fit your stairwell and your specific mobility needs. From platform lifts, wheelchair lifts, home elevators, and more, Savaria's got you covered!
History of Compassion – Savaria began as a small company dedicated to providing individuals in wheelchairs quality wheelchair lift technology in the comfort of their homes. With over 30 years of experience helping homeowners increase indoor accessibility, Savaria was built on the foundation of Marcel Bourassa's (founder) compassion and desire to serve others.
At Access Elevator we are dedicated to providing our clients in Buffalo, Pittsburgh, Ithaca, NY, Rochester, Erie, and the surrounding areas with a selection of home mobility options that increase independence and comfortability indoors. Carrying several Savaria lift models, we accommodate the unique structure of your home for stair lift technology that doesn't interrupt the ambiance of your residence. Fitting snugly over your staircase or in the corner of your living, we help you select the right model for your needs at the right price. At Access Elevator, we provide you with the service you deserve for all your residential mobility needs. Give us a call today at (716) 839-2226 to chat with our team about your stair lift needs.