If you are looking at options for a low occupancy, low-rise building, then you definitely should consider the options available in LU/LA (Limited Use/Limited Application) elevators. The best way to differentiate a LU/LA elevator from a traditional passenger elevator is that a LU/LA elevator is smaller, similar to an enclosed wheelchair lift, but with the appearance and feel of a traditional elevator. This is why they are called limited use, limited application –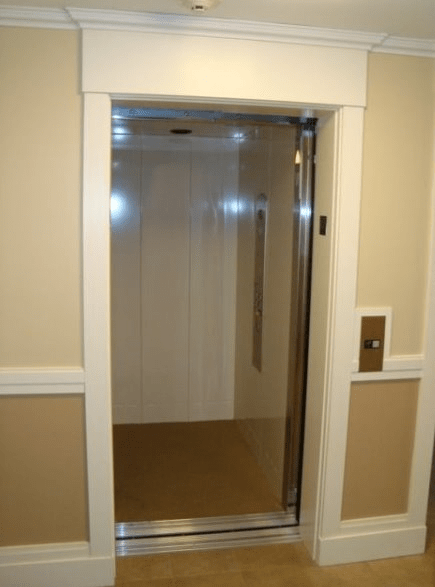 Take up less space
Capable of short travel distances
Lower maximum weight capacity than traditional elevators
LU/LA elevators are also ADA compliant. Your local Access Elevator office will be able to give you more information on LU/LA elevators for your building to meet ADA compliancy and installation. However, where load-bearing or outside walls are not available for a traditional elevator, LU/LA elevators can be a perfect option. Additionally, traditional elevators are often included in the original plans for a building, where an LU/LA can come after or are retrofitted where needed.
Other benefits include:
Low pit space of 13"
Half the square floor space
Less cost
Maintenance every 6 months (opposed to monthly maintenance)
Hoistway/shaft can be made of wood or sheetrock, no concrete required
Less overhead space requirement
These lower requirements, as opposed to traditional elevators but still more than a hybrid wheelchair lift, is what puts LU/LA elevators in between the traditional elevator and lift. The enclosed and secure feel of a LU/LA elevator may be the difference in comfortability for visitors to feel welcome to your building.
LU/LA elevators are used in a number of different places – churches, schools, stores, office buildings, and even homes. And, don't be surprised when you start to see visitors who have mobility issues such as joint problems or disability issues use your LU/LA elevator. More of your visitors will feel welcome and comfortable using a mobility assistance device to access your location, rather than avoiding entering or staying on the first floor to wait for their companions. Also, carrying packages or bags on stairs can be a safety issue for mobility impaired. While liability is one issue, you never want to compromise the safety of your visitors.
Different styles and finishes can make a LU/LA elevator fit seamlessly into your building's aesthetics. Different colors and even wood cabs are available.
Access Elevator installs stairlifts, wheelchair lifts, home elevators, and small commercial LU/LA elevators to customers throughout Erie, Pittsburgh, Syracuse, Rochester, Buffalo, and surrounding areas. Currently, the Access Elevator team installs hundreds of customized lifts and elevators each year. Contact us today!