Home Elevators, LU/LA Elevators, Stair Lifts, and Wheelchair Lifts for Erie, PA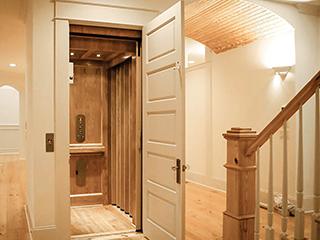 Erie, PA, has a long history full of battles, shipyards, and more. In fact, the city reached its first 100,000 residents before 1930. For the next eight decades, the population remained relatively unchanged. And while the city retains its older buildings and homes, older construction has not always accommodated those with mobility issues. Some older buildings have been refurbished to become housing, and this presents an excellent opportunity to incorporate some of the great options in mobility assistance. Homes can benefit from the addition of home elevators and stairlifts, while Erie businesses may want to include LU/LA elevators or wheelchair lifts.
Request More Information
Home Elevators and Stair Lifts for Erie, PA Homes
We're going to bet that if you live in a home in Erie, you've probably been there for a long time. Your home is where you've raised a family, made memories, have the yard you love, and the neighborhood you know. At Access Elevator, we'd love to talk to you about the options of remaining in your home as long as possible through the use of home elevators and stair lifts. Stair lifts are a popular option because of the affordability and quick installation. Almost any home in Erie can have a stairlift installed. Stairlifts attach to the landings of the stairs and not the house's structure. We work with curved stairs, switchbacks, decks, and more. Whatever challenge your Erie house has, we can guarantee a stair lift solution that can work for you!
LU/LA Elevators and Wheelchair Lifts for Erie, PA Businesses
LU/LA elevators and wheelchair lifts can also be used for homes but are more popularly found in businesses or churches. Many different types of businesses and houses of worship want to accommodate and want to look for affordable ways and work with their current structure. Also, Erie businesses may wish to inquire about which type of LU/LA elevators or wheelchair lifts work with their building and are also ADA compliant.
There are many different types of houses of worship in Erie, a diversity that makes Erie unique. Places of worship are free to choose whatever kind of mobility assistance they would like to incorporate into their building, even a stairlift. However, if they charge for renting their space, they change to a business and need to be ADA compliant.
Confused about what to install in your Erie, PA home, building, or house of worship? We understand, there are many different options, from wheelchair lifts to elevators. The best way to start your search is by contacting Access Elevator. We have an office in Erie and offer no-obligation estimates. Call us today to get started on your search for the perfect mobility assistance for your home or business.