The holiday season is upon us! With the change of the weather and the merriment of the holidays lingering in the air, there's no time like the present to gift your loved ones with the ability to move freely in their homes and reclaim their independence.
But how?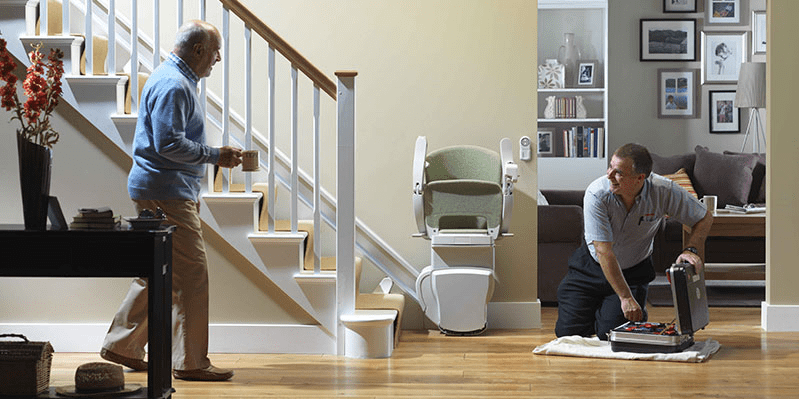 While stairlift technology doesn't seem like a common holiday gift, the independence that comes with indoor mobility is a priceless and invaluable asset to any multi-story homeowner with limited mobility.
In addition to increased independence, here are some reasons why stairlifts are the perfect gift for your loved ones this holiday season:
When stairs become an obstacle, you can either relocate or install an indoor stairlift at a fraction of the cost. So, if you or your loved ones are struggling with mobility, then you should consider the gift of independence this holiday season through stairlift technology that prevents relocation.
Stairs can be extremely dangerous for individuals that struggle with mobility. Traveling up and downstairs isn't ideal, especially for individuals who live at home alone. If you or someone you know is struggling to keep their footing or find stairs to be a challenge, then a stairlift is the ideal solution to reduce safety risks.
Traveling up and down stairs can be uncomfortable for you or your loved ones that struggle with mobility. With comfortable seating options and simple function, stairlifts give users the power to effortlessly glide up and down staircases without sacrificing comfort.
At Access Elevator, we provide you and your loved ones with stairlifts in Pittsburgh, PA, and the surrounding areas. Working with you, your budget, and your loved one's home mobility needs, we help you give your loved ones the gift of independence this holiday season.
From curved stairlift models, straight stairlifts, outdoor stairlifts, and more, we're here to help you find the right stairlift in Pittsburgh for your loved ones, at the right price. Contact us today by calling (412) 781-9111 to learn more about our stairlifts in Pittsburgh!