It's no secret that stairs can cause complicated mobility issues for individuals in wheelchairs. While elevators alleviate the burden of stairs, enclosed wheelchair lifts are a great option for businesses and homeowners looking to save and increase mobility. Indoor and Outdoor applications make this Lift a wonderful choice for you or your loved ones increased accessibility.
What are enclosed wheelchair lifts?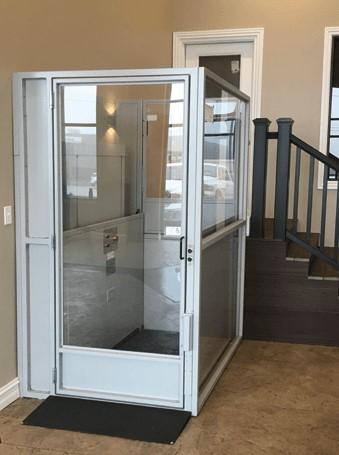 Enclosed wheelchair lifts, also referred to as enclosed vertical platform lifts, are an accessibility device that eliminates the burden of stairs for individuals in wheelchairs.
Much like an elevator, enclosed wheelchair lifts are a safe and enclosed space that delivers individuals and their wheelchairs to the multi-levels of homes and buildings. Enclosed wheelchair lifts are ideal for nursing homes, residences, churches, public buildings, and more.
Benefits of enclosed wheelchair lifts.
When discussing the benefits of enclosed wheelchair lifts, a few terms come to mind: accessibility, convenience, and versatility.
Accessibility – Physical limitations should not inhibit individuals from accessing all levels of homes and businesses. Enclosed lifts promote independent access to all areas of your structure.
Convenience – With a moderate-size, enclosed lifts are a convenient addition to your home and/or business. Typically, Enclosed lifts have the same requirements of Shaft way Lifts, but the enclosure is used in lieu of a site-built shaft way.
Versatility – There are several ways to install enclosed wheelchair lifts. Whether you're looking for lift technology to be installed directly inside your building, or on your building's exterior, enclosed wheelchair lifts are extremely versatile, fitting to several platform sizes and styles. They can accommodate up to multiple landings within a 14 Foot Rise, and are a great way to add accessibility into the Built and Newly constructed environment.
Since 1969, we've been providing Rochester, Buffalo, Ithaca, NY, Pittsburgh, Morgantown, WV, Erie, and the surrounding areas with the most innovative home and business mobility technology including enclosed wheelchair lifts. With a passion for helping others and an extensive knowledge of home mobility solutions, our technicians stop at nothing to ensure that you and/or your loved ones are safe and comfortable indoors.
Understanding that not all enclosed wheelchair lift models may be right for you, we work closely with you to gauge your needs and find the right technology for your needs and budget. Call us today to learn more about our mobility solutions.