Whether you've lived in your home for years or just moved in, one thing is certain: If you have limited mobility, stairs hold you back!
Your stairs shouldn't keep you from feeling comfortable in your own home. If you find that stairs are posing a complicated issue for you or your loved ones, then it may be time to explore the possibility of installing a chair lift for your home.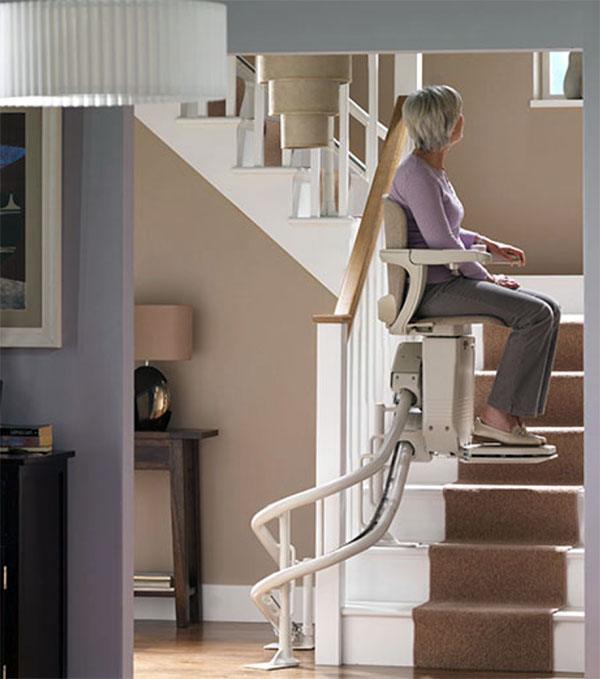 But with so many chair lift technologies out there it can be difficult to decipher which chair lift is right for your home and your needs. Do you need a curved stair lift? Maybe you need a straight stair lift? Perhaps the stairs are outside, and you need an outdoor lift? If you're not an expert then how do you know what kind of stair lift is right for your needs?
If your home has a unique staircase that doesn't go straight to the second level of your home, then the answer is obvious–you need a curved stair lift!
Curved stair lifts accommodate the unique bends, turns, and landings of your stairwell. No matter if you have a spiral staircase, a fanned-out staircase, or a half landing design, curved stair lifts are custom-made to increase your mobility without compromising the structure of your staircase.
With professional technicians safely measuring each and every curve of your stairs, curved stair lifts can be installed quickly and hassle-free so you can enjoy improved mobility in your home, ASAP.
At Access Elevator we help you find the curved stair lift that's right for your needs and your home. Working with a diverse range of customers from Buffalo, Rochester, Morgantown, WV, Erie, Pittsburgh, and the surrounding areas, we are dedicated to arming you with the technology that improves your quality of life and increases your indoor mobility.
If you're tired of feeling stuck in your own home give us a call today at (888) 668-5438 to chat with an expert about your indoor mobility needs.