Optimize Safety
If you or a family member face difficulties traveling up and down staircases, you're not alone. While many aging individuals choose to relocate during their golden years, there's a better way!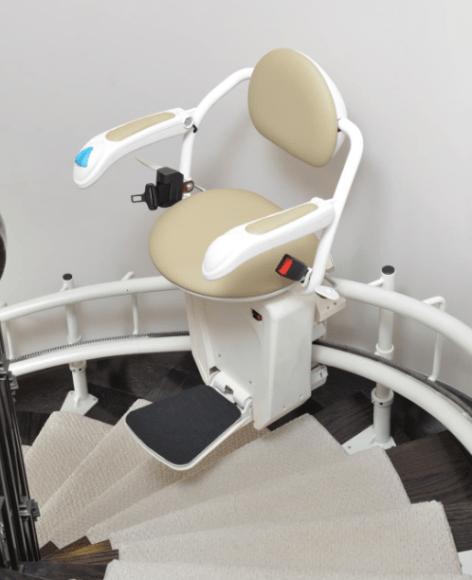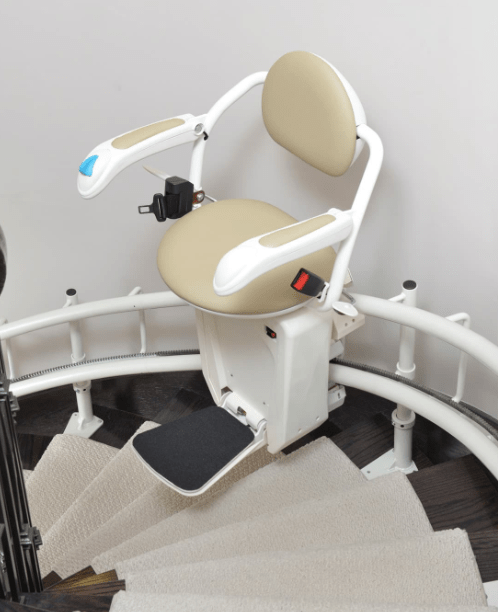 Curved stair lift technology allows you to age-in-place, all while enjoying the benefits of safe and efficient travel up and downstairs. As a custom-built stair lift solution, curved stair lifts accommodate the various twists, turns, and corners of your unique staircase, providing you with increased mobility without changing the structure of your home.
At Access Elevator, we carry the best and safest curved stair lift technology on the market: Stannah!
Here are some of the special features of our curved stair lifts that make them the safest technology for your home/business:
Parking & Calling – Our lifts come equipped with an easy-to-use remote control, so you can send your lift up and down the track with ease. No more worrying about climbing stairs to get to your chair!
Power Swivel – Our power swivel option eliminates the need to manually turn chairs to exit the stair lift. With an emergency release feature, you always have optimal access to your stairway.
Continuous Charge – Nothing is worse than having your curved stair lift run out of battery on the track. With our continuous charge feature, you don't have to worry about your lift running out of juice— the lift is charged anywhere on the track!
At Access Elevator, we are proud to provide our clients in Buffalo, Erie, Rochester, Pittsburgh, Morgantown, WV, Ithaca, NY, and the surrounding areas with quality curved stair lift technology. By working closely with you, our team of skilled technicians helps you find the right technology to improve mobility and independence indoors.
Since 1969, we've been keeping up with the latest advancements and discoveries in indoor mobility to promote safety indoors. Whether you're searching for curved stair lifts for your home or business, we're here to help you get the technology you need at the price you deserve. Contact us today for more info on curved stair lift technology!