Enclosed wheelchair lifts are an advanced technology that helps improve mobility for individuals in wheelchairs and those with limited mobility. What makes enclosed wheelchair lifts unique is their constant pressure operation and moving panels inside structures that can reach up to two floors. Whether lifts are used to eliminate the burden of a few steps or an entire staircase, these lifts provide safe and convenient access for users.
We help both businesses and homeowners equip their spaces with enclosed wheelchair lift technology that meets their specific requirements.
Commercial Enclosed Wheelchair Lifts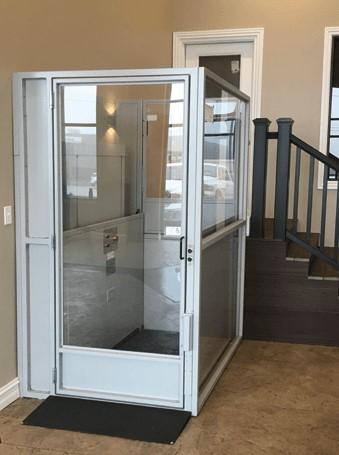 With a closed cabin, enclosed lifts make a great addition to businesses. More affordable than a commercial elevator, businesses can provide all their clients with mobility solutions, ensuring that stairs and steps don't prevent access for clients with a limited range of movement. From churches, schools, industrial businesses, and more, we install ADA-compliant lift technology with safety guarantees.
Residential Enclosed Wheelchair Lifts
Enclosed wheelchair lifts are a great choice for homeowners looking to increase indoor mobility without relocation. Taking up less space than a home elevator, homeowners can easily maneuver the multiple levels of their homes with ease, not having to worry about safety or security.
At Access Elevator, we proudly serve individuals and businesses throughout Buffalo, Rochester, Erie, Ithaca, NY, Morgantown, WV, Pittsburgh, and the surrounding areas with enclosed wheelchair lift options. By working with you and your budget, we help you assess your unique needs to find the right mobility technology. In addition to meeting your needs, our enclosed wheelchair lifts exceed your expectations with a range of features that surpass industry standards.
For more than fifty years we've kept up-to-date on the latest mobility technologies to best serve our clients with the innovative technology they need to improve mobility. Contact us today for more info on enclosed wheelchair lifts for your home/business!