Stairlifts, sometimes called chair lifts, can solve complex issues for individuals with limited mobility. Without the need to relocate, chair lifts can make your life easier and help you glide up and downstairs and levels with ease.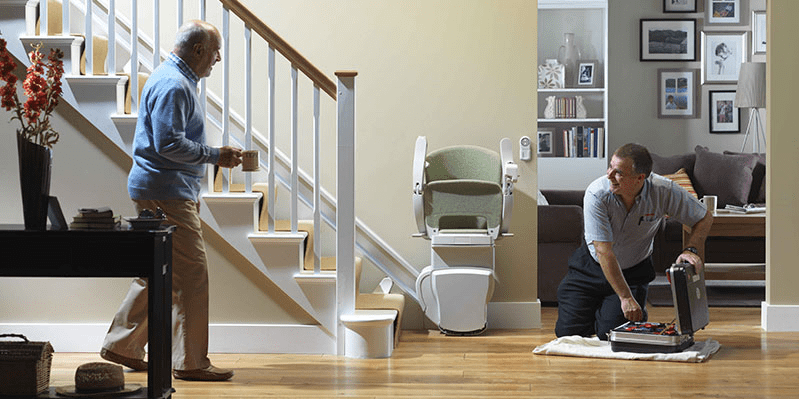 If you're still not convinced that you need a chair lift for your multi-story home, then check out these benefits of having a chair lift installed:
Mobility- The most obvious and practical benefit of chair lift technology is that it improves your mobility in the comfort of your home. If you find yourself having a hard time walking up and down stairs then it may be time to install a chair lift for your staircase.
Safety- Chair lifts make traveling up and down levels safer and more secure for you and your loved ones. With special safety features in place, chair lifts make traveling up and down stairs safe and easy.
Aging-In-Place- Chair lift technology makes your home a space where you can grow old. Without having to relocate, chair lifts can help you feel more comfortable and provide you with mobility for years to come.
Independence- Chair lift technology gives you the independence and freedom to move freely in your home. If you feel like you've lost your independence, then a chair lift could be the solution you're looking for.
There are various types of chair lift options for your staircase. From indoor to outdoor, curved and straight, there are a range of styles and designs to choose from. But the one thing that all chair lifts have in common is that they make your life more comfortable!
If you or your loved one is struggling with mobility in multi-story homes, then it may be time to have a chair lift installed.
At Access Elevator we have over 50 years serving our valued clients in Buffalo, Pittsburgh, Rochester, Morgantown, WV, Ithaca, NY, and the surrounding areas with quality chair lift technology solutions.  By getting to know you and your needs personally, it's our mission to provide you with the lift technology that grants you your independence once again and makes you more comfortable in your home.
No matter what your mobility needs are, and no matter what your budget may be, we can help you find the chair lift that fits all your requirements. Contact us today to get started!