When it comes to home staircases, there are a plethora of different combinations. From curved stairs, straight stairs, spiral, L-shaped stairs, and more, your home staircase is an integral part of your home's design.
But what happens if you eventually need a chair lift installed?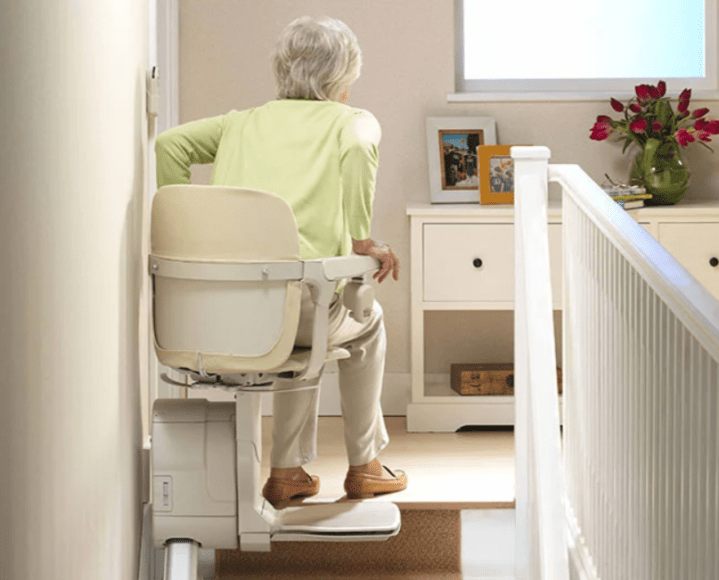 While straight and curved chair lifts are the most common options for staircases, stairs with landings require custom chair lift installation. Here are some of the chair lift installation options/combinations for stairs with landings:
Two Straight Chair Lifts – Having two straight chair lifts installed on the steps of each stairwell can save you money on installation costs. Note that on landings you will have to exit the first lift and walk to the second chair lift, so you need a basic level of mobility for this option to work.
One Curved Chair Lift – If you or your loved one has limited mobility, then installing a single curved chair lift may be the best option. Curved stair lifts are custom designed to fit each unique staircase to accommodate every curve and landing.
One Straight & One Curved Chair Lift – This chair lift combination is the best choice for you and your household if you have a unique custom-built staircase. Remember that just like the two straight chair lifts option, you will need to walk on the landing to make it all the way up staircases.
At Access Elevator, we are passionate about offering our clients the most affordable and practical chair lifts in Rochester, Erie, Buffalo, Ithaca, NY, and the surrounding areas. With well over 50 years of experience working with local communities, our team has a reputation for excellence that will exceed all your expectations. Whether you are looking for curved chair lifts for your staircase, or platform lifts to navigate steps, or something else, we have all the chair lifts you or your loved ones need to navigate freely and independently at home.
We have also partnered with the most reputable chair lift manufacturers in the business to ensure that your chair lift will last for years to come. Contact us today to learn more about chair lifts in Buffalo, Rochester, Ithaca, NY, Erie, and the surrounding areas.