Are stairs becoming a challenge for you? Do you want more freedom in your home? Are you looking for aging-in-place accessibility solutions that enable you to remain in your family home without relocating?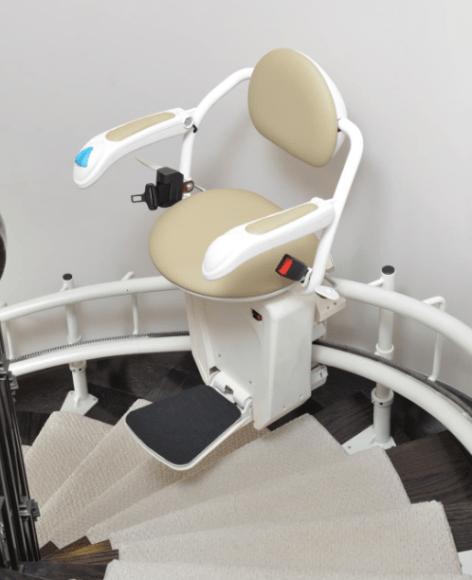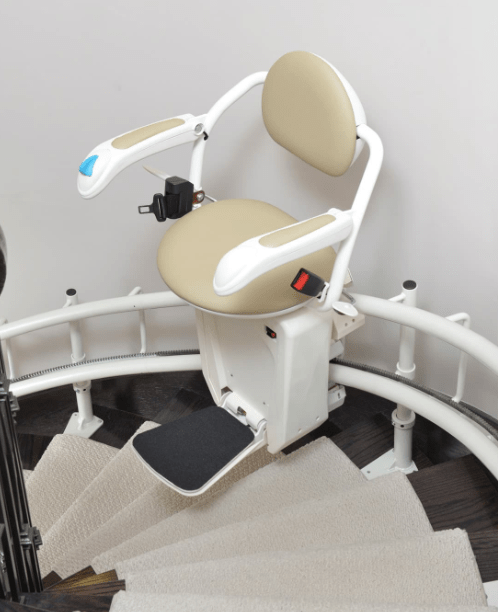 If you answered yes to one or more of the above questions then it's time to explore the option of curved stair lift technology! However, if you're not a stair lift expert, then you may have some questions about curved stair life technology–and we're here to answer them!
Do I need a straight or curved stair lift?

If your stairwell has curves, corners, or turns, then you need a curved stair lift. Straight lifts are for staircases with no curves or turns.
Are curved stair lifts covered by Medicare?

Unfortunately, no. While Medicare does not cover the costs of curved stair lifts, there are other financial programs that may help.
How long does it take to install a curved stair lift?

Following an initial consultation, curved stair lifts can be installed in a matter of 3-5 hours depending on the size of the project.
Are curved stair lifts tax deductible?

In some cases, yes. Curved stair lifts are tax deductible if a doctor has deemed stair lift technology as medically necessary.
At Access Elevator, our reputation precedes us for providing the best curved stair lifts in Morgantown, WV, Pittsburgh, Rochester, Buffalo, Erie, Ithaca, NY, and the surrounding areas. By partnering with the best manufacturers in curved stair lift technology, including Stannah, we are dedicated to offering you and/or your loved ones with mobility solutions that improve freedom, safety, and accessibility indoors. Whether you're looking to replace your outdated lift technology or have a curved stair lift installed for the first time, we're here to meet all your needs and exceed your expectations with the most advanced stair lift solutions.
From start to finish, we're here to work with you every step of the way. Contact us today to learn more about our curved stair lifts for your home!