A LU/LA is a Limited Use/Limited Application elevator. Think of a traditional elevator but one that is for low occupancy, and low-rise buildings. If a traditional passenger elevator is not feasible or required by law, a LU/LA elevator would be the perfect fit.
The LU/LA was designed to meet the requirements of the ADA where structural integrity doesn't exist for a traditional elevator. Some examples of the structural accommodation of a LU/LA elevator include: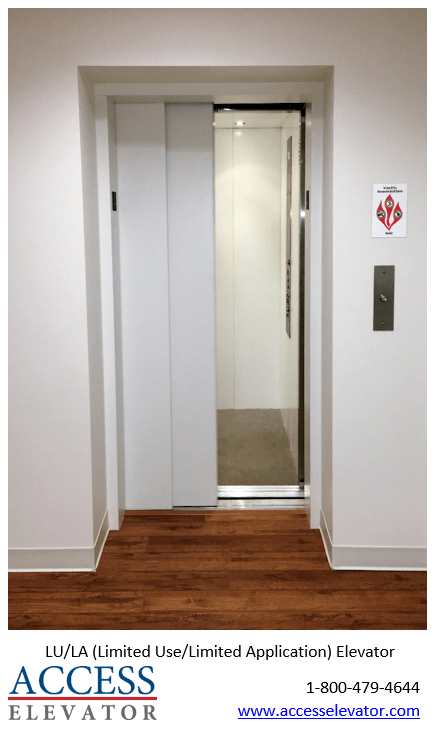 Low pit space of 13"
Half the square floor space
Less cost
Maintenance every 6 months (opposed to monthly maintenance)
Hoistway/shaft can be made of wood or sheetrock, no concrete required
Less overhead space requirement
With all the descriptors making the LU/LA elevator seem smaller, it may appear to be more similar to a hybrid wheelchair lift. However, a lift has a lower weight limit and lower speed. The LU/LA will give riders the feel of a traditional elevator where one is preferred. Providing a LU/LA elevator is a great way to welcome all visitors to your building.
Chances are you've seen one already in a store, school or public building. Where access for either ADA compliance or just wheelchair access is desired, the LU/LA will be a perfect fit. And while building a LU/LA elevator into original building plans is preferred, LU/LA elevators can be retrofitted into existing structures.
Besides access to wheelchairs and being compliant, you might want to consider the other benefits a LU/LA elevator offers. An elevator is very user friendly as compared to stairs for many people. Some people with mobility issues will avoid a building without elevator access or tell people they'll "just wait here" on the bottom floor. Also, the movement of goods from one floor to another may not be possible with just a wheelchair lift. Even if you have workers that can carry heavy objects up and down stairs you probably don't want to ask your guests and visitors to do the same. Owners of buildings with a LU/LA elevator will probably tell you that more than just wheelchairs use their elevators and their visitors are glad for the accommodation.
A variety of different styles and finishes are available to make your new LU/LA elevator fit seamlessly into the aesthetics of your building. Even custom wood cabs are available. Car door finishes come in white, ivory, black, gray and vintage bronze. If desired, you can even make your drive system "green" by adding environmentally biodegradable hydraulic oil.
Access Elevator installs stairlifts, wheelchair lifts, home elevators, and small commercial LU/LA elevators to customers throughout Erie, Pittsburgh, Syracuse, Rochester and Buffalo. Currently the Access Elevator team installs hundreds of customized lifts and elevators each year. Contact us today at 1-800-479-4644 or visit our website at www.accesselevator.com.