What is a Hybrid wheelchair lift? It's a platform wheelchair lift that looks and feels like an elevator, but operates like a wheelchair lift. Hybrid Wheelchair Lifts are available in different configurations and sizes and feature a full height elevator car and a non-load bearing ceiling. Through our vendor, Symmetry Elevating Solutions, Access Elevator offers a variety of styles and finishes for your Hybrid Lift to match the décor of your home. Hybrid wheelchair lifts can be added to most existing residential or commercial structures or designed into a new home/facility.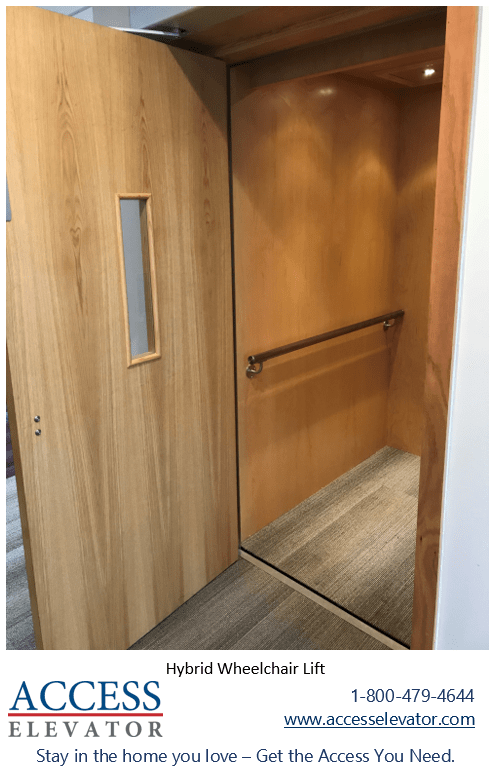 When looking for an interior wheelchair lift, there are couple of things customers should keep in mind.
ADA Compliance: The entire line of Symmetry Elevating Solutions Wheelchair Lifts, including Hybrid lifts, is designed around ADA 4.11 compliance and public and private accessibility. An optional ADA phone is available for both indoor and outdoor models.
Cost: Hybrid wheelchair lifts are much more affordable than small commercial elevators that have the same configuration and size.
Durability: Industry leading 4-year warranty and 750 – 1,000 pound capacity for long, reliable use.
Safety: Symmetry Elevating Solutions Wheelchair Lifts utilize an A.W.A.R.E. Diagnostics System: Active Wiring, Accessories, Relay & Electronics Diagnosis System (A.W.A.R.E.) which is a fully functional on-board diagnostics system to manage and monitor every critical function of the lift. Additional safety features include and uninterruptible power supply for car lowering and automatic gate operation in the event of a power failure, along with a grab rail, landing interlocks, an alarm, and emergency stop switch.
Appearance. While it sounds superficial, you'll want your life to blend into the aesthetics of your house or building. Some options for appearance include different finishes such as paint, clear coat or stain on optional wood grains including red oak, cherry, birch, maple, and many more. Other options include customized rails, lighting, trim, panels, etc. A full variety of customizable styles to add to the overall style of your home or commercial facility.
Access Elevator delivers stairlifts, wheelchair lift, hybrid wheelchair lifts, home elevators, and small commercial elevators to customers throughout Erie, Pittsburgh, Syracuse, Rochester and Buffalo. Currently the Access Elevator team installs hundreds of customized lifts and elevators each year. Learn more by visiting our website at www.accesselevator.com or give us a call today 800-479-4644.