Chair lifts can solve complicated issues for individuals with limited mobility. Accommodating a range of different stairwells and styles, chair lifts can increase mobility and independence for individuals living in multi-story homes. However, before homeowners pull the trigger on purchasing chair lift technology, they need to have a good idea of what kind of chair lift is right for their home and their needs.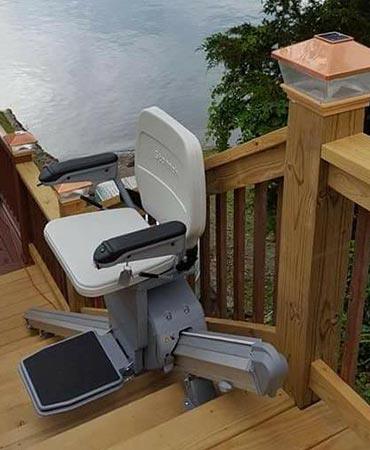 The following is a list of 5 important things to consider when it comes to purchasing a new chair lift for your residence.
Mobility- Mobility is the number one factor to consider when it comes to finding the right chair lift for your home. If stepping off your chair lift platform is too difficult for you or your loved one, then you'll need to purchase a chair lift that has a 90-degree swivel feature to offer a wider range of movement.
Dimensions- Not all chair lifts are right for your home. If your home has a non-traditional or unique stairwell then you may need a custom chair lift design. Professionals can come out ahead of time and measure your stairway to ensure that the chair lift you're considering is right for your home.
Weight- Some chair lifts have a maximum weight capacity of around 400-pounds. Heavy individuals that need a higher weight capacity should chat with a professional about the chair lift that can accommodate their specific needs. Keep in mind that the weight capacity may include the weight of wheelchairs as well.
Safety- When it comes to finding the right chair lift for your home, safety comes first! Your chair lift should be equipped with a range of safety features to keep you and your loved ones safe. Chair lift safety features may include brakes, safety belts, sensors, and more.
Comfort- For individuals utilizing chair lifts on a daily basis, it's important to find a comfortable chair lift that can accommodate daily use. From backrests, footrests, adjustable seats, and more, you should consider the level of comfort you want out of your new chair lift.
Our team of technicians at Access Elevator gets to know you and your needs personally to better assist you in finding the chair lift that's right for you. With a broad range of designs, capacities, and styles, we work with the most reputable brands in the home mobility industry. Serving clients in Buffalo, Erie, Syracuse, Pittsburgh, Rochester, and Morgantown WV it's our privilege to provide quality chair lifts and more to Western New York and the surrounding areas.