Two-story homes raise an important issue for homeowners with limited mobility. Some homeowners even decide to relocate from their homes due to the complications that two-story buildings create for handicapped and elderly homeowners. But you shouldn't have to leave your forever home due to limited accessibility. Installing residential elevators solves complicated home mobility issues in addition to providing homeowners with many other benefits.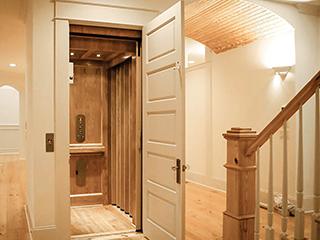 Home elevators can substantially increase your property value. Potential buyers are easily attracted to the unique and special features that add to the overall value and function of your home. Residential elevators not only help you with your own mobility but are a profitable investment if you are looking to sell your home in the future.
Home elevators save you space. Compared to other home mobility options, elevators are an efficient and sleek accessibility solution that doesn't interrupt your daily routine or take up an excessive amount of space in your home. Residential elevators can even be installed on the outside of an external wall, taking up virtually zero additional space inside your home.
Modern technology has made home elevators a more secure option when it comes to home safety. Moving up and down stairs can be difficult for children, the elderly, and handicapped people. Home elevators can help prevent accidents and also come with additional safety features for a more complete security function.
Home elevators are a stylish and attractive option for homeowners that add additional value to your property. Residential elevators are not just for the elite, they are made available and affordable for anyone looking to enhance their home and add special characteristics that draw the eye and provide practicality.
Access Elevator provides homeowners in Pittsburgh, Rochester, Syracuse, Ithaca NY, Morgantown WV, Buffalo, and the surrounding areas with a selection of residential elevator options that are affordable, attractive, and practical. With years of experience in home adaptations for increased mobility function, Access Elevator has a reputation for providing innovative accessibility solutions for handicapped and elderly people of all levels of mobility. Visit https://www.accesselevator.com/ to learn more about the residential elevator solutions that are right for you.