Stairs can be a burden for individuals with limited mobility. Acting as a barrier, stairs are extremely frustrating for people living in multi-story homes and can even make individuals with limited mobility feel like they've lost their independence altogether!
Chair lift technology helps elderly and handicapped individuals regain their independence with innovative designs that coast over indoor and outdoor stairs safely. If you or a loved one is looking for an affordable and effective solution to residential mobility issues, then these 3 chair lift technologies can help: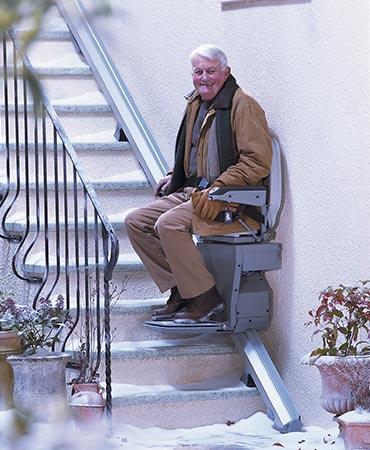 Curved Stairlifts– Curved stairlift technology can be easily installed in homes with unique staircases. Without compromising the integrity of your stairwell design, curved chair lift technology is customized to fit your stairs with sleek and attractive platforms that glide over your staircase with ease.
Outdoor Stairlifts– Outdoor stairlifts are ideal for homes with stairs leading to and from entrances. Without having to relocate or pay an arm and a leg for expensive ramps, outdoor chair lift technology accommodates your home's stairs and gives you the freedom to travel outdoors independently without having to worry about mobility complications.
Enclosed Vertical Platform Lifts – Enclosed vertical chair lift technology is great for homeowners with limited mobility looking to find an affordable chair lift solution. With an articulating base, enclosed vertical platform lifts can be folded to a width of 21 inches for easy storage.
At Access Elevator we are dedicated to providing our clients in Pittsburgh, Rochester, Syracuse, Ithaca, NY, Buffalo, Morgantown, WV, and the surrounding areas with quality indoor mobility technologies at affordable rates. With a team of technicians ready to help you find the right mobility solutions for your budget, we provide our clients with the knowledge needed to make informed decisions when selecting the right chair lift for their homes. Call us today to chat with a specialist about your home mobility needs.