As a homeowner, business owner, or church parishner, you may be wondering about the advantages and benefits of enclosed wheelchair lifts. Here are three benefits of enclosed wheelchair lifts for you to consider.
Benefit #1: Enclosed Wheelchair Lifts Provide Accessibility
Many older buildings only provide staircase access to other floors. Enclosed wheelchair lifts remove barriers to access for individuals who use wheelchairs for mobility.
All of the enclosed wheelchair lifts that Access Elevator offers meet the American Society of Mechanical Engineers (ASME) A18.1 Safety Standard for Platform Lifts. With enclosed wheelchair lifts from Access Elevator, it's easier than ever to modify an existing building and make it fully accessible and ADA-compliant.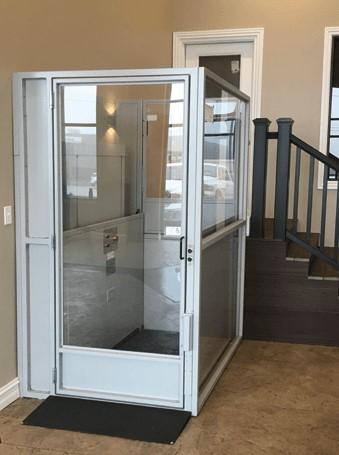 Enclosed wheelchair lifts give wheelchair users access to multiple floors in a home, municipal building, office building, or house of worship. Elevators provide similar accessibility, but not all buildings are designed to accommodate an elevator shaft, lifting mechanism, motor, and cables.
The cost can also be a factor. Enclosed wheelchair lifts tend to be more economical than regular elevators, yet they give wheelchair users the accessibility they need.
Benefit #2: Enclosed Wheelchair Lifts are Convenient
Smaller than traditional elevators, enclosed wheelchair lifts are convenient for tighter spaces. They can be tucked in next to an existing staircase to keep access to other floors conveniently close for everyone. Whether you're walking up a flight of stairs or riding up in an enclosed wheelchair lift, you don't have to go far to meet up with the others in your party on the next floor. If you're giving a building tour or leading some other type of indoor group activity, enclosed wheelchair lifts located right next to staircases greatly facilitate the logistics.
Purpose-built for moving a passenger in a wheelchair, enclosed wheelchair lifts do not require any chair transfers. Eliminate the danger of falling during transfer or getting jostled by other passengers. Single-passenger enclosed wheelchair lifts allow users to travel in comfort and safety.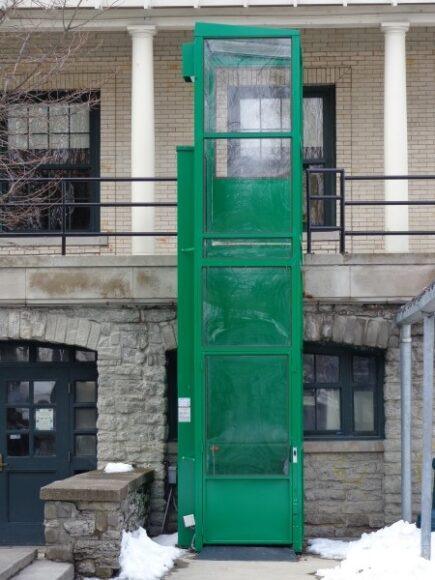 Quiet and energy-efficient, enclosed wheelchair lifts can be used without disturbing a household, even in the middle of the night. They're even silent enough to preserve the peaceful ambiance of a chapel, temple, or other worship facility.
Benefit #3: Enclosed Wheelchair Lifts are Versatile
Enclosed wheelchair lifts can be installed in several different ways. Access Elevator supplies freestanding enclosed wheelchair lifts, as well as lifts that can be built into an existing shaft in your building. Hybrid platform lifts are a type of enclosed wheelchair lift that can be fitted inside of an existing wall.
Enclosed wheelchair lifts from Access Elevator are available in four different platform sizes, from 36" W x 48" D to 42" W x 60" D. With many available styles and over two hundred color options, enclosed wheelchair lifts from Access Elevator fit beautifully into any home or public building.
To learn more about the benefits of enclosed wheelchair lifts, contact the team at Access Elevator today at 800-479-4644. You'll be amazed how much of a difference enclosed wheelchair lifts can make!