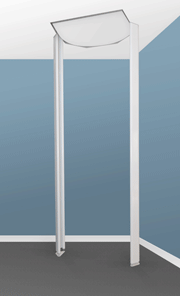 Elevators – Home & Residential Elevators
Make life easier with a Stiltz Duo lift
The popular Duo is the original Stiltz product. It is a great alternative to a traditional elevator or a stairlift.
Versatile. No need for a supporting wall so can be installed in most places around the home.
Quick and easy install. All work can be completed in as little as two days.
Compact. Footprint is less than 7 square feet
Extremely quiet operation
Very low power consumption; just a regular 110v outlet is needed.
Available with every Stiltz Duo lift
White exterior
Woven cream color carpet interior (range of optional colors and finishes available on request at an additional cost)
All safety features, including full-height light curtain, top and bottom safety pans, overweight, speed and out of balance sensors, hold-to-run control and unique fall arrest mechanism
Half-height interlocked door
Two remote control units to call the lift from any floor
Internal LED Down Lights which turn on and off when the user enters and exits the lift
Optional interior seat gives users the option to sit down or place goods during travel
Two-year parts warranty